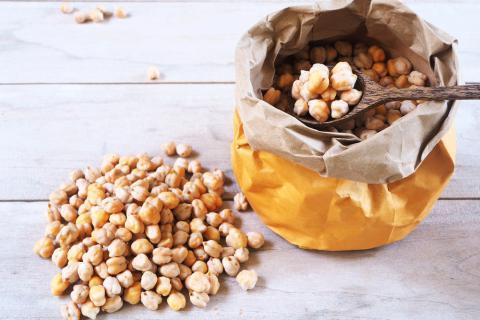 When you're trying to eat healthy, one of the smartest things you can do is meal plan.  Part of meal planning includes choosing dishes that can use the same ingredients so you don't end up wasting food or having just a little bit of one thing left over.
These four recipes do just that: they take a basic ingredient and lay out three easy weeknight meal recipes—plus a lunch—based off that ingredient.  This means fewer items to buy at the grocery store (which means a quicker trip) and also less food wasted.
Since weeknights can be hectic, we've included tips for prepping the meals ahead of time.  Taking a few hours on Sunday to set yourself up for a week of healthy eating can be the key to success!
Meet the Star: Chickpeas 
The central ingredient in these four recipes is chickpeas.  Chickpeas (also known as garbanzo beans) are such a versatile food!  While you can cook your own (similar to cooking dried beans), cans of them are inexpensive and really easy to use (and the liquid that comes with them can be used for vegan baking!).  And you can do almost anything to chickpeas—roast them, puree them, throw them in soups or on salads…the list goes on.  When you keep a few cans of chickpeas on your shelf, you can almost always whip up a vegetarian meal. 
But it's not just their versatility that makes them such a good ingredient to incorporate into your meal planning.  Chickpeas are a fantastic plant-based source of protein.  You can add them to so many vegetarian dishes to instantly amp up the protein factor.  Chickpeas also contain fiber, and the combination of the two (protein and fiber) can help you feel full longer, which can aid in weight control (or just make them a solid choice for lunch so you don't get the afternoon munchies).  Chickpeas also possess all but one of the essential amino acids, making them almost as good as quinoa for plant-based protein (but also meaning you need to pair them with another food to make the meal a complete protein).
This little legume also has a low glycemic index which can help balance blood sugar.  Chickpeas are also an excellent source of zinc, meaning they can even keep your skin clear of acne!  Their nutritious value also means they aid in digestion (soluble fiber!) and can protect against certain diseases (heart disease, cancer, and diabetes).  Basically, the chickpea contains so much more nutritious value than its low cost would imply—making chickpeas the perfect choice to keep stocked in your pantry.
In addition to chickpeas, you'll find these ingredients in more than one of these recipes:
Buddha Bowls
Buddha bowls are infinitely customizable.  We've suggested our favorite ingredients here, but throw in whatever is in your CSA box or whatever your favorite combination is.  You can even use different grains (try couscous or wheatberries) and dressings so you can have Buddha bowls multiple times a week without getting bored.  If you have picky family members you're feeding, leave the bowls unassembled so people can build their own.  The hands-on prep time for this dish is minimal, but if you're feeling crunched for time skip the roasted veggies and use the chickpeas straight out of the can (rinsed and drained) along with sliced cucumbers, halved cherry tomatoes, diced red bell pepper, sliced avocado, sprouts, olives, and arugula—all that, mixed with quick-cooking quinoa (it's ready in 15-20 minutes) and you'll have dinner on the table before you know it.  You can also make the quinoa in advance and store covered in the fridge for a few days.  Store the cut-up veggies separately in the fridge and you've got an easy build-it-when-you-want-it meal that any family member can turn to any time of the week.
Ingredients 
1 cup quinoa, rinsed
1-15 oz. can chickpeas, drained & rinsed
some combination of veggies for roasting: broccoli florets, chopped carrots, cubed parsnips, cubed sweet potatoes, cubed butternut squash, halved Brussels sprouts, cauliflower florets (use more or less veggies as you wish, but aim for about a cup of veggies per serving)
1/8 cup tahini
1 teaspoon minced garlic
1/4 cup lemon juice
1/8 cup nutritional yeast
1-2 Tablespoons olive oil
1 avocado, sliced (optional)
salt & pepper, to taste
Directions
Preheat oven to 425F.
Cook the quinoa: combine it with 1-1/2 cups water in a small saucepan and bring it to a boil.
Once boiling, reduce heat, cover, and cook 12-17 minutes, or until water is absorbed.  Let sit covered for 5 minutes off heat.  Fluff.
Place veggies on a lined baking sheet and season with salt and pepper. You can include the chickpeas here for crunchier ones, or just add them straight out of the can for softer ones.  Roast for about 20 minutes, or until cooked through, flipping once halfway through.
Make the dressing: In a food processor, combine tahini, garlic, lemon juice, nutritional yeast, olive oil, and salt and pepper to taste until smooth.  Adjust to taste and desired consistency if needed.
Portion the quinoa and veggies into 3-4 bowls and drizzle the dressing on top.  Garnish with avocado, if desired.
Vegan Curry
Guess what…here's another recipe you can tailor to fit your preferences!  I've tried this recipe with so many different vegetables—broccoli, cauliflower, sweet potato, various types of peas…If you feel you need more of a protein/calcium boost, throw some tofu in it too.  (Or chicken, if you're so inclined.)
Serve it over your grain of choice: rice is classic (brown is healthier), but quinoa, farro, bulgur, wheatberries, millet, and more are also perfectly fine options.  If you're feeling fancy, make some naan or chapati on the side.
The great thing about this is that it gets better as the flavors mingle.  So don't feel guilty making it in advance and letting it sit in the fridge for a day or two before serving—it'll only be tastier.  Likewise, leftovers are delicious.  Change up the grain you serve it with and throw in some cubed tofu the second time around and it's almost a different meal.
Ingredients
1 Tablespoons olive oil
1 onion, diced
4 cloves garlic, minced
1 Tablespoon fresh ginger, minced
1-1/2 teaspoons coriander
1 teaspoon turmeric
1/4 teaspoon cayenne (optional)
1 Tablespoon garam masala (can substitute any curry powder)
1/2 teaspoon salt
1-14.5 oz. can diced tomatoes (can also use crushed)
1-13.5 oz. can coconut milk
1-15 oz. can chickpeas
Directions
Heat olive oil in a large pan over medium-high heat.  Once it shimmers, add onions, reduce to medium heat, and cook, stirring occasionally, for about 5 minutes.
Add garlic and ginger, and cook another minute.
Add coriander, turmeric, cayenne, garam masala, salt, and cook for 1 minute, until fragrant.
Add tomatoes, coconut milk, and chickpeas and stir.  Bring mixture to a low boil and then reduce heat to low and simmer for 10 minutes, or until reduced to desired thickness.
Serve over your grain of choice.  Garnish with fresh cilantro, avocado, and lime juice, if desired.
Falafel Patties
Falafel can be way easier to make than you think it is.  Let's start with baking it instead of frying it.  Healthier, less messy, less hands-on time…is there any reason to go back to frying it?  You can also use dried or canned chickpeas, and they're both easy to use and cost effective (although a heads-up—the dried chickpeas need to soak overnight).  And when it comes to serving falafel…you can stick to a more traditional option and use pita bread or wraps, but you can also serve them up as burgers on buns—but please make this tahini sauce to go on top.  And if you want to cut down on breads, you can serve them with a fork and knife and yummy sides like tabbouleh, slaw, kimchi, or potato salad.
Ingredients
1-15 oz. can chickpeas, drained & rinsed (or use 1 cup dried chickpeas)
1/2 cup roughly chopped onion
3 cloves garlic, roughly chopped
1/4 cup packed fresh cilantro
1/4 cup packed fresh parsley
1 Tablespoon lemon juice
1 Tablespoon olive oil
1/2 teaspoon salt
1 teaspoon coriander
pinch of cayenne
1/4 teaspoon cinnamon
pepper, to taste
1 teaspoon baking powder
1/4 cup all-purpose flour (optional)
Directions 
If you're using dried chickpeas, soak them in water for 12-24 hours.  They should pretty much fall apart when you touch them.
When you're ready to make the falafel, preheat oven to 375F.
In a food processor, combine the chickpeas (drained and rinsed if canned, soaked overnight if dried), onion, garlic, cilantro, parsley, lemon juice, olive oil, salt, pepper, coriander, cayenne, and cinnamon.  Pulse until the ingredients are mixed.  Taste and adjust seasonings, if needed.
Add baking powder and flour (if using) and pulse a few more times, until you can form a ball with the mixture.
Roll the falafel into balls and press into patties about a half-inch thick.  Brush with olive oil.
Bake for about 30 minutes, flipping once halfway through.
Serve in a pita, with tzatziki or greek yogurt and sliced cucumbers.  Store leftovers in the fridge for up to 5 days.
Chickpea Salad
This twist on egg salad (or tuna salad—tweak the flavors to your preference) comes together in no time and will provide you with several days' worth of sandwiches with minimal effort.  We've included several different optional ingredients so you can tweak it to your favorite sandwich salad style—and make sure to dice the veggies small enough they'll mix together well.  The dill and turmeric are both optional, but they'll give you a health boost as well as a punch of flavor and color.  Serve it like you would an egg salad or tuna salad sandwich, or load it up with arugula, red onion, tomato, and sprouts for a delicious (if messy) combo.  If you're eating it at your desk, maybe spread it on crackers instead—either way…yum!
Ingredients
1-15 oz. can chickpeas, drained & rinsed
1/4 cup dill pickles, diced
1-2 stalks celery, diced (optional, but gives a great crunch!)
1/8 cup bell pepper, diced (optional, but gives a nice crunch if you omit celery)
1/8 cup onion, diced (red or green is perfect)
3 Tablespoons mayonnaise (you can use vegan mayonnaise or make your own)
2 teaspoons mustard
2-4 teaspoons lemon juice or apple cider vinegar
2 teaspoons fresh dill, chopped (optional)
1/8 teaspoon turmeric (optional)
1/4 teaspoon salt
pepper, to taste
Directions
Mash the chickpeas with a potato masher, pastry blender, or large fork.  You can leave some whole if you want—but you want some flakiness.
Add the pickles, celery, bell pepper, onion, mayonnaise, mustard, lemon juice, dill, turmeric, salt, and pepper.
Mix together and adjust seasonings as needed.
Store covered in the refrigerator for up to 3 days.
Not a fan of these recipes?  Try these chickpea-friendly recipes instead!
Spiced Pumpkin Soup with Chickpeas
Hummus—so many ways, in so many varieties (like beet!)