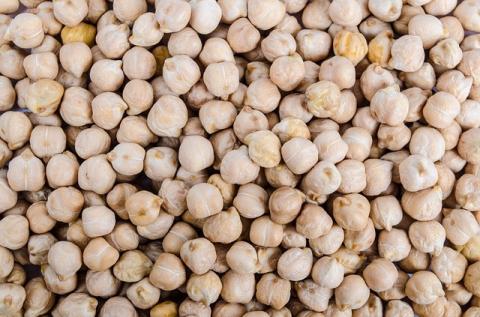 The first time I had a roasted chickpea was a game changer. A salad of delicate mixed greens drizzled with balsamic dressing was topped with none other than roasted chickpeas. Ever since that salad, I can't stop eating them.
Roasted chickpeas are a simple protein-boosting snack. The trick to getting these little guys nice and toasty is making sure that they are dry when roasting. This helps them to brown. If you are on a budget or in dire need of a grocery trip, this recipe is perfect as it requires very little to make. Or if you simply just don't know what to do with that can of chickpeas, this one is for you.
A pinch of salt and a hint of paprika dust these roasted chickpeas. Put them on a salad or eat them as a snack. You'll like them so much you'll be eating them like popcorn. Either way, you'll want to toss chickpeas on everything!
Ingredients
1 15 oz. can chickpeas
½ tbsp. paprika
1 tsp. salt
1 tsp. pepper
olive oil
Directions
Preheat oven to 425 degrees F. Drain chickpeas and pour onto a baking sheet lined with paper towels. Pat chickpeas dry. Remove paper towels.
Next, toss chickpeas with a light coating of olive oil. Be sure not to add too much or they will come out soggy. Toss chickpeas in spices.
Roast in oven for 20 minutes or until golden brown. Shake the pan halfway to be sure they roast evenly. Let cool, and serve.