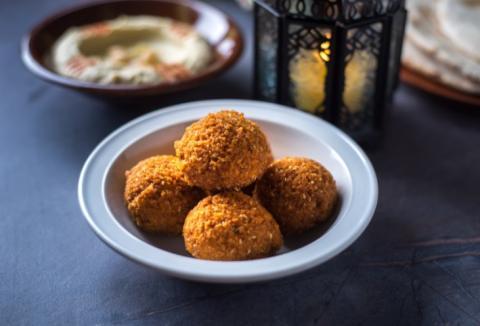 I've been craving falafels lately and have no idea why. Maybe it's because I was recently looking through my Birthright trip photos and remembered having the best falafel of my life in Tel Aviv. My friend and I went out one night in search of the best falafel and boy, did we ever find it. It was being served out of a little shack on the side of the street. People were lining up around the block for this stuff, so we figured it had to be good.
When we finally got our steamy, falafel-stuffed pitas, we thought we died and went to heaven. The falafel in Israel is a lot softer and mushier than the kind we're used to in America. They're also HUGE, almost like slightly small hamburgers…I devoured mine in a few seconds.
The whole sense memory of that experience came rushing back as I was browsing my photos the other day and that's when the craving hit. I immediately got myself to the shops, picked up a giant jar of tahini and several cans of chickpeas and got to work on some baked falafels!
I wanted to keep these semi-healthy so I opted to bake them. You could definitely shallow fry or even deep-fry them if you wanted to, but I always go for the low-fat version if I can.
These are beautiful served alongside a salad. In Israel falafel is often served as a "platter" with classic Israeli salads such as cucumber and tomato or red cabbage and yogurt.
Healthy Baked Falafels
Ingredients
2 cups of chickpeas
1 small onion, chopped
2 small cloves of garlic, chopped
1 tablespoon cumin
1/2 tablespoon dried parsley flakes
1 1/2 teaspoon salt
1/2 teaspoon pepper
1/2 teaspoon paprika
1/2 teaspoon baking soda
1 tablespoon lemon juice
1/4 cup tahini
Directions
1. Drain the chickpeas and dump into a large bowl. Add the onion and garlic, and then add the spices, lemon juice, and baking soda. Mix until contents are fully combined.
2. Dump half of the chickpea mixture into the drum of a large food processor (don't try to blend the whole thing—it'll stick, I promise). Grind the mixture up until it starts to come together, pulsing to keep it moving.
3. Dump into another large bowl and then repeat with the remaining mixture. You now have a thick, slightly pasty mass.
4. Set the oven to 375F and line a baking sheet with parchment. Scoop out tablespoons of the mixture and mold into slightly flattened burger shapes. Place the burgers on the baking sheet, and brush the tops and bottoms of the falafels liberally with olive oil (don't skimp on the oil here).
5. Bake for 30 minutes, flipping halfway through. Serve right away with tahini sauce and a swig of hot sauce if you can handle it.
6. For the tahini sauce, Mix together 1/4 cup of tahini with (up to) 1/4 cup of water. Add the water gradually and stop once you've reached your desired consistency. Add in salt and a squeeze of lemon. Drizzle the sauce over the falafels or use as a dip!