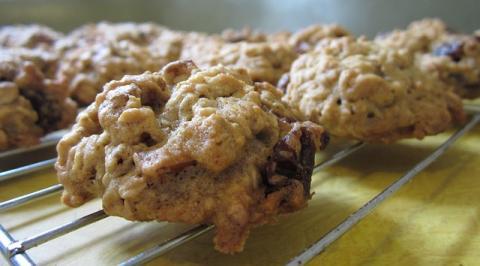 I'll admit that old-fashioned oatmeal cookies may not sound like the most appetizing treat, but only because we were traumatized as kids. It's unfortunate that a raisin-filled cookie looks an awful lot like an ooey, gooey chocolate chip cookie. Oh, the trickery! I mean, seriously, what kid truly appreciates raisins? To this day, I'm still not the biggest fan of raisins, which is why I make raisin-free oatmeal cookies. Bring in the dried cranberries! Incorporating cranberries, instead of raisins, is my route to restoring faith in the oatmeal cookie.
Whenever we didn't have chocolate chips on hand, but we were craving cookies, I'd offer to make my boyfriend oatmeal cookies. Every time, he'd refuse my offer. Crazy, right? So, one day, I decided to just make them, without his consent. Yeah, I'm bad to the bone like that. What's it to ya? Anyways, he ended up absolutely loving them. I turned him into a cookie monster—an oatmeal cookie monster of all things. If I can make a believer out of him, I bet I can make a believer out of you, too.
If you're looking for a warm, comforting cookie, don't count oatmeal out just yet! Get into the kitchen with your loved ones, and make this delicious recipe for two dozen oatmeal cookies the next time you'd like a freshly baked cookie. Have you already started Googling "how to quickly soften butter?" It's okay; I'm not judging!
Ingredients:
7 tbsp. softened vegan butter
6 tbsp. organic brown sugar
¼ c. organic sugar
1 vegan egg replacement, ex: 1 flax egg (1 tbsp. ground flaxseed mixed with 2.5 tbsp. water)
½ tsp. vanilla
¾ c. gluten-free flour
¼ tsp. xanthan gum (if your flour blend doesn't already contain it)
½ tsp. baking soda
¼ tsp. baking powder
½ tsp. cinnamon
¼ tsp. salt
1 ½ c. gluten-free oats
½ c. organic dried cranberries
Directions:
Preheat oven to 350 degrees Fahrenheit.
Meanwhile, in medium-sized bowl, use hand mixer to cream together butter and sugars. Then, mix in vegan egg and vanilla. Add flour, xanthan gum (if using), baking soda, baking powder, cinnamon, and salt. Last, add oats and cranberries to dough, and mix well.
Place dough, by the rounded tablespoon, onto ungreased cookie sheets. Bake for about 10 minutes, or until lightly golden. After they've cooled for a few minutes, transfer them to a wire rack for further cooling.
Enjoy the toasty cookies with an ice-cold glass of almond milk!