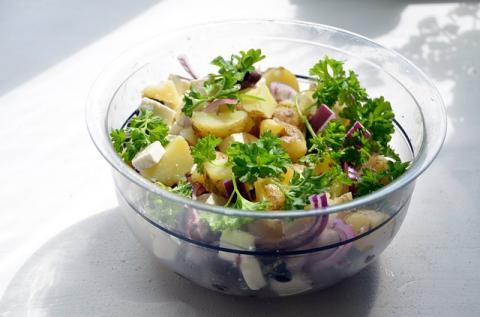 The Fourth of July is upon us, and there's nothing I love more than a traditional barbecue. While there are tons of vegetarian and vegan items to grill up, the barbecue sides are equally as important. That's why this potato salad is the ticket to a delicious summer meal.
In lieu of the typical mayo-based potato salad, I've included one with a light vinaigrette for those eating vegan or serving guests who are. In fact, this more closely resembles the original, German-style potato salad recipes (vinegary with grain mustard) that were brought to the U.S. by German settlers in the 1800s. The newer creamy potato salad version didn't become popular until the commercialization of bottled mayo in the early 1950s.
Plus, this salad packs a flavorful punch that will surpass any potato salad from your childhood. Note: This recipe calls for red potatoes, but you can always use yukon gold or russet potatoes in their place.
Lemon-Dill Potato Salad
Serves 8
2 pounds red potatoes
1/2 cup celery, diced
1/2 cup red onion, finely chopped
1/2 cup red pepper, diced
2 tablespoons capers
3 tablespoons freshly squeezed lemon juice
2 tablespoons Dijon mustard
1/4 cup olive oil
1/2 teaspoon dried dill weed
Salt and pepper to taste
Dice potatoes into 1/2-inch-thick cubes. Boil in water until fork tender. Drain and transfer to a bowl.
Add the celery, onion, red pepper and capers to the potatoes.
Whisk the lemon juice, mustard, olive oil and dill weed in a separate bowl.
Pour the vinaigrette mixture over the still-warm potatoes and stir until all the potatoes are coated.
Add salt, pepper and more lemon juice (if desired) to taste.