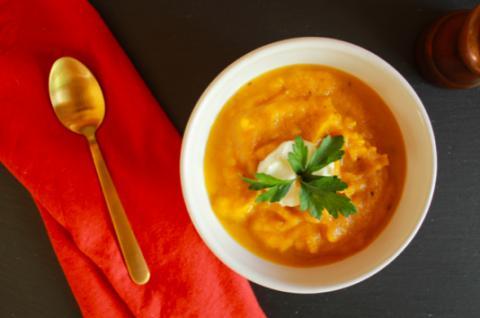 If you're looking to warm up with something delicious, or to nourish your skin after spending the summer outdoors, cozy up with a bowl of pumpkin soup this fall. Pumpkins aren't just for pies and coffee drinks; they present a nutritionally abundant proposition for savory cooking as well.  Today I'm sharing a North African inspired pumpkin soup recipe with seasonal spices, black pepper essential oil, and protein rich chickpeas that makes a delicious fall meal in a bowl. 
The Body in Fall
Fall begins a time of deep inner work that extends through winter. The shifting seasons beckon us. There's a new crispness in the air and deep in the earth the soil microbes are changing.  As the days become shorter and colder, our bodies shift as well. These transitional periods offer interesting opportunities to practice listening to the body, and to notice how it's relating to the natural world. For example, we might find that we have less energy. The parasympathetic nervous system is more active in the colder months. This is the part of the involuntary nervous system that slows heart rate, increases intestinal and glandular activity, and relaxes the sphincter muscles. Fall is a good time to slow down and allow the body space to begin restoring itself.
If you choose to nurture your body with seasonal food, you might find that you get out of bed with more grace and ease throughout the winter, and even keep a healthy glow going. The light, cooling foods we enjoyed during the summer, some raw or only lightly cooked, are no longer what our bodies need; as we move into fall, we begin to crave warmer, heartier foods. In the Ayurvedic system, sweet, sour, salty, heavy, moist, oily, and hot foods are recommended now, which are believed to work in concert with the body's energies. Generally speaking, think tubers of all sorts with a little healthy fat; warm, whole grains; cooked fruit like apples and bananas; most nuts and seeds; many spices; and if you aren't vegan or vegetarian, meat, eggs, dairy, and seasonal fish. The idea is to keep the body warm, grounded, and well-nourished while it restores itself and builds its defense against winter illnesses.
Pretty Powerful Pumpkins
Each time I pass a pumpkin patch, or even a group of pumpkins assembled in a rustic, fall-themed display at the grocery store, my heart lingers a little. I'm sure I'm not alone, given the number of pumpkin products around these days. Of course there are many explanations for our collective pumpkin obsession ranging from nostalgia to marketing, and from a nutritional standpoint, there's also good reason. Seasonal foods engage in silent dialogue with the body.  Pumpkin and other fall foods contain microbes that support immunity by increasing heat and digestive strength, just what we need to keep us feeling well during this time of year. Pumpkin in particular is packed with vitamin A, which boosts cell turnover and nourishes hair, skin, nails, bones, and teeth.  After restless, sun drenched summers, fall foods restore us. And take note: pumpkin's health benefits extend to its seeds, which are one of the best plant-based sources of zinc, an anti-inflammatory that is also great for hair, skin, and nails. Reserve the seeds and roast them with sea salt and spices, and you'll have a delicious healthy snack to enjoy.
Every fall when my body starts to slow down a little, I remind myself that it's working beautifully. The idea that the body moves through harmonic seasonal cycles with the earth might at first seem a little woo-woo, but with each new study, it becomes uncannily logical. Although I read each new piece of research with appreciation, there's nothing that compares to the feeling of knowing that occurs at both the psychic and physical level when one connects to the rhythm of the earth. Through seasonal eating, food has the power to open that door. For me, this small act has been life changing, and it's a path that I wholeheartedly encourage everyone to take.  So, why not give it a go now that all those delicious pumpkins are calling? What do you have to lose?  
North African Inspired Pumpkin Soup with Chickpeas and Black Pepper Essential Oil
(Serves 4)
Note: Please handle essential oils with care. Always use nonreactive utensils and containers when measuring and mixing. In order to preserve nutrients, don't expose essential oils to high heat. You can substitute ¼ teaspoon cracked black pepper for essential oil; add it in step 1 along with the other dried spices.
Ingredients
2 tablespoons extra-virgin olive oil, plus more for serving
½ teaspoon ground caraway seed
¼ teaspoon ground coriander
¼ teaspoon ground cumin 
1 teaspoon dried red pepper
1 teaspoon dried ground mint
2 cloves of garlic, smashed with the back of a large knife
½ teaspoon sea salt, plus more to taste
1 pound pumpkin, peeled, seeded, and cut into large chunks
2 cups vegetable stock, chicken stock, or water 
1 cup cooked chickpeas 
¾ cup plain Greek yogurt
1 drop food grade black pepper essential oil
fresh lemon juice to taste
a handful of parsley, chopped (for garnish)
Directions
Heat the olive oil in a heavy bottomed soup pan. Add the dried spices and stir until they release fragrance. Add the garlic, pumpkin, and sea salt, and stir, smothering the pumpkin. Add stock or water, raise the heat, and bring to a boil.  Immediately lower the heat to a gentle simmer and cook for 10 minutes. Remove from the heat to cool. 
After the mixture has cooled, transfer it to a blender or food processor and blend to a smooth consistency. Return the soup to the saucepan, stir in the chickpeas and parsley, turn on the heat, and cook until the chickpeas are warm.
Meanwhile, put the yogurt in a nonreactive bowl, add black pepper oil, and stir well to combine. 
Plate soup, top each serving with yogurt, add a squeeze of lemon juice, garnish with parsley, and serve.
All photos by Shiraz Leyva