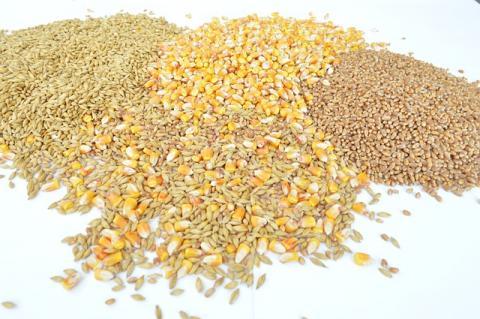 Brown rice, the simple ingredient I base most of my home-cooked meals on, is amazing. And we all know about other grains that are trendy in America, like quinoa and couscous. But there are so many other options that can add interest to meals, or work for those who have food allergies to more popular grains. Whether you've never heard of some of these or just haven't tried them yet, here's the lowdown on different grains you can try this year.
Barley
Barley is relatively rare in modern diets, but don't underestimate this grain. It's been around for thousands of years for a reason. Barley makes an excellent alternative to flour for breads and baking, supplements soups nicely during the winter months, and makes a great side dish, with a flavor similar to brown rice but with a rich, chewy texture.
Sorghum
Sorghum
If you're from the American South, you might be familiar with sorghum already. It's been historically used to make an inexpensive sweetener in the South, commonly called sorghum molasses. But it's time for sorghum to be used to its full potential. Try it just like you would any other grain: in soups, stews, baked goods, and more.
Millet
Millet
Millet is often associated with birdseed, but this grain can be so much more. An ancient grain from the early days of farming, millet can be toasted before cooking to bring out its nutty flavor, or cooked untoasted for a super-versatile option for cooking, baking, and side dishes.
Teff
Teff is actually a kind of millet. And if you've ever been to an Ethiopian restaurant, chances are good you've been offered teff bread: it's often used as the flat bread used to hold and scoop the dishes with. This grain will taste slightly different depending on whether you try the red, white, or brown variety, so experiment to see what you like.
Red rice
Red rice comes from the Himalayas and has many similarities to brown rice, but gets its reddish color from the same antioxidant that tints many red or purple edible plants, like beets. Although it's slightly harder to find than brown rice, the extra health benefits (and appealing color!) are worth the extra effort.
Black rice
Black Rice
Sometimes called "forbidden rice," black rice is believed to have once been a delicacy that only the very rich could afford. Now, there's a good chance you might find this interesting grain at your local healthy grocery store. A heavy dose of the same antioxidant that gives eggplant, blueberries, and açaí berries (and red rice!) their color gives this rice a dark purplish-black tint. It has a light texture but a deep, earthy flavor, making it a versatile choice for many rice-based dishes and sides.
Bulgur
Bulgur, a type of whole wheat, is often faster and easier to cook than other whole grains because it's cracked and partially cooked before you buy it. This grain is great for low-maintenance dishes like stir-frys, when you want to eat well quickly and with minimal effort.
Buckwheat
Buckwheat
Contrary to its name, buckwheat actually comes from a fruit seed. But in cooking, we treat it like a grain. Try the roasted variety for a deeper, earthy flavor, or unroasted for something lighter and more versatile in taste.
Amaranth
Amaranth
This South American seed has a nutty, wholesome flavor and is packed with protein. It also has much more fiber than wheat does. Try cooked amaranth in both sweet and savory dishes to boost your fiber and protein intake, for healthy digestion and higher metabolism and energy levels.
Farro
Farro
Farro can be tricky to cook, but it's an interesting choice for foodies who like a challenge. Because farro can refer to a few different species of wheat (spelt, emmer, and einkorn), make sure you know what kind you're getting when you buy it; and don't forget to check whether you're getting whole-grain, semi-pearled, or pearled farro. All of these factors will affect your cooking approach. If you master cooking this grain, you'll be at the cutting edge of gourmet-food trends.