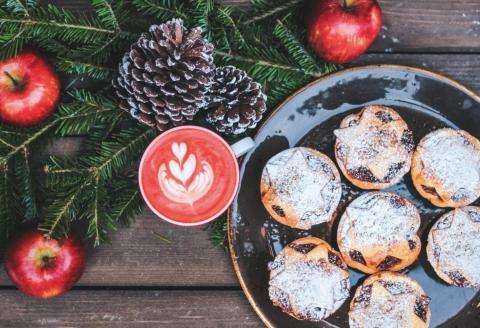 Who said the holidays have to become a time for eating unhealthy food and waking up with hangovers? You want to enjoy this festive season with family and friends — but since when did that entail practicing unhealthy habits? 
You can't control what other people choose to do, but you can opt to throw a seasonal soiree that won't leave your guests consulting Dr. Acetominophen or buying weight loss shakes. With a bit of ingenuity, you can throw a healthy and organic holiday party full of delectable foods. Your guests will love your dishes so much that they'll ask for the recipes when they embark on their new year's resolutions. 
1. Set Expectations for Guests 
Maybe you've recently converted to a vegan lifestyle and your Aunt Edna shows up with her signature ham casserole. Unless you two recently spoke at length about your lifestyle choices, point the finger at the mirror when it comes to assigning blame. Maybe she didn't mean to be rude — she merely forgot. 
Set out your expectations for guests clearly in your invitations. It's considered common courtesy to note whether an event is casual or formal, for example. This tip prevents one guest from rocking a cocktail dress to a jeans-and-T-shirt affair. However, you should also include any specialized instructions, such as not bringing a meat dish to a vegetarian meal. 
2. Focus on Beverages Other Than Alcohol 
Many festivities this time of the year concentrate around the eggnog and the punch bowl. However, try the unique approach of having a non-alcoholic focus when it comes to your party drinks. By and large, alcohol isn't a healthy choice, and guests who abstain for personal reasons will appreciate you keeping the brandy to a minimum. 
You decide what to do if your guests bring a bottle of wine — it's equally okay to keep it or to open it for sharing. You don't need it to entertain — wow your guests with a delicious and elegant mocktail instead. They'll thank you when they arrive home safely, too!
3. Plan Plenty of Varieties 
To make sure to tickle everyone's palate, serve an elegant spread of hot and cold appetizers and snacks. Some people appreciate food in its raw form, but others love to explore new flavor combinations. Give these ideas a try. 
Cream cheese cucumber-mint sandwiches: Something about the humble cucumber sandwich calls to mind images of fine dining overlooking Central Park. These make the perfect party food for mingling because they fit in your guests' hands. They also taste light and airy. Cucumbers have few calories, so these won't leave you adjusting your belt. 
Vegan meatballs: What's a party tray without some meatballs on a stick? Who says you have to use red meat, though? With more and more people abstaining from red meat, try an alternative like vegan meatballs. The nutritional yeast and the black beans give these snacks plenty of protein. 
Spinach and artichoke dip: You want to include some crudités for the raw food crowd, but this savory dip will please the rest of your partygoers. It tastes equally delicious with celery or pita bread. 
4. Try Exotic Fruits and Vegetables 
Have you ever tried jicama? This staple of Southwest cooking is chock-full of dietary fiber and vitamin C. It also tastes fantastic shredded with watermelon rind — yes, that part! — and made into coleslaw. 
Take your guests on a culinary adventure by trying some recipes that feature exotic fruits and vegetables. Chances are, no one on your invite list has tried rambutan or soursop. They'll lose themselves so thoroughly in the different tastes that they won't focus on the fact that they're eating a healthy, plant-based meal. 
5. Swear Off the Moralizing 
Finally, remember, it's a party! You're supposed to have fun. Maybe someone on your guest list could benefit from improving their daily diet. Is now the appropriate time to point out this idea, though? 
Even though you want to keep your guests healthy, maintain respectful silence when it comes to their individual choices. Maybe your friend is increasing her risk of disease by continuing to eat processed meat — but she should get this information from her doctor. Feel free to share recipes and tips when your friends and family rave about your spread. Do so without making them feel guilty, however. 
Make a Memorable Healthy and Organic Holiday Party Food Spread 
You and your guests can enjoy a splendid holiday party without unhealthy overindulgence and guilt. This year, break the false idea that you have to harm your body to have a good time — or meal.