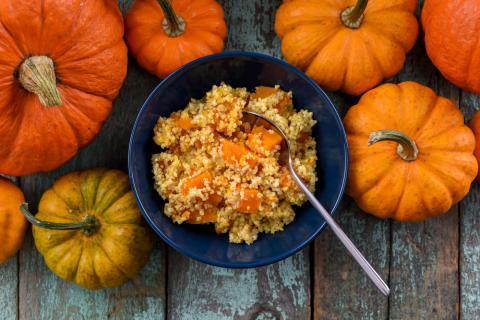 'Tis the season for all things pumpkin spice…so trade out that Pumpkin Spice Latte tomorrow morning for this genuinely belly-warming, hearty overnight hot cereal. Make it with fresh pumpkin or canned, syrup or brown sugar, overnight in the crockpot or morning-of on the stovetop. No matter how you choose to execute, the pumpkin-porridge marriage is something special. Tailor this recipe to your taste for warming spices, to the tools in your kitchen, and to the local produce available around you.
I personally can't get enough of a freshly baked sugar pumpkin in autumn, so I made this recipe with fresh pumpkin. If you'd like to go this route, preheat the oven to 375°F, and meanwhile, chop (after removing the stem) the pumpkin in half vertically. Scoop out the guts to compost, and save the seeds aside to roast, if you like. Place the two halves hollow side down on a baking tray, and place the tray in the middle of the oven for about one hour or until both halves are tender when poked with a fork. Once removed from the oven, flip the pumpkin halves to sit hollow, flesh side up to cool, and then scoop out the tender meat, which should easily fall away from the skin. Fresh pumpkin should save well in an airtight container in the fridge for up to 5 days.
If you don't have a crockpot, go put it on your kitchen shopping list (I found my favorite crock pot at a local thrift store!), and then adapt the recipe to make it on the stovetop. Make the recipe in a pot as if you were making it in a crockpot, and place the whole pot in the fridge overnight to sit and soak up the moisture and flavors. In the morning, place the pot on the stovetop, cooking on medium heat and stirring occasionally until the wheatberries "pop," or until they are slightly al dente.
Your bowl of belly-warming pumpkin wheatberry porridge can be delightfully topped with the roasted pumpkin seeds from your freshly roasted pumpkin, coconut flakes, a dash of cinnamon sugar, or a dainty drizzle of maple syrup…mmm.
Pumpkin Wheatberry Porridge 
Prep time: 10 minutes
Cook time: Overnight on LOW in the crockpot
Servings: 1-2, depending on appetite
Ingredients 
1/2 cup raw wheatberries
1/2 cup almond milk (you could use any kind of milk you prefer for flavoring—cow's milk, coconut milk, or other non-diary milk)
1/2 cup water
1/4 cup pumpkin, canned or fresh (see directions to use fresh pumpkin above!)
1 teaspoon maple syrup (or other sweetener)
1/4 teaspoon cinnamon
dash of any combination of clove, nutmeg, ginger, and cardamom (try all!)
pinch of salt
Directions 
Combine all ingredients directly in crockpot basin. Mix gently until combined, adjusting spices as preferred, and adding nuts and seeds if desired.
Turn crockpot to low to simmer overnight, and awake to the sweet scent of pumpkin spice wafting from your kitchen.
All Photos By Gretchen F. Kaija