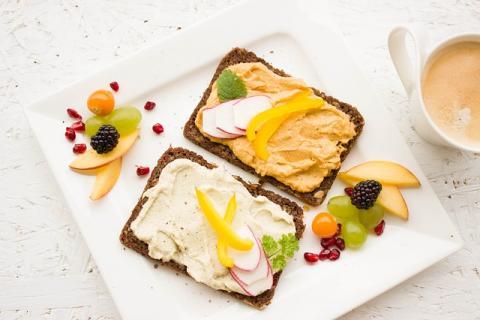 In my house, hummus does not last long. In fact, it is hard to share. It's my go to for a quick snack, and more often than not becomes the center of dinner. While there are many store bought brands that have some tasty flavor combinations, homemade is always best. One batch gives twice the amount for half the price and it lacks any preservatives you may find on the shelf.
This recipe is a classic hummus that can be topped off with some of your favorite flavor combinations. I usually will just use a little olive oil and paprika, but the base can go with many toppings. To keep things simple I use canned chickpeas, but if you really want to save I recommend using dried. Oh, and a little tip, if the hummus freezes up in the food processor or high powered blender, try adding some ice water to get it going. Not too much though, otherwise you'll end up with bland hummus.
Ingredients
1/3 cup tahini
1 15oz. can chickpeas
2  lemons, juiced
1 tsp salt
½ tsp garlic powder
½ tsp paprika
¾ tsp cumin
2 tbsp olive oil
In a food processor or high-powered blender, add tahini, juice of one lemon, olive oil, and spices. Puree for 30 seconds. Add half the chickpeas and puree for one minute. Add the other half of chickpeas and juice of the other lemon, then puree until smooth or desired consistency is achieved. Top hummus with desired toppings. Serve with pita or your favorite vegetables.
Topping #1:
½ tsp paprika
1/2 tbsp olive oil
1 tbsp pine nuts
Topping #2:
2 tbsp chopped sun dried tomatoes
½ tsp Italian spices
1 tbsp chopped olives
1/2 tbsp olive oil
Topping #3:
½ tbsp chili oil
2 tbsp flat leaf parsley
1 tbsp capers