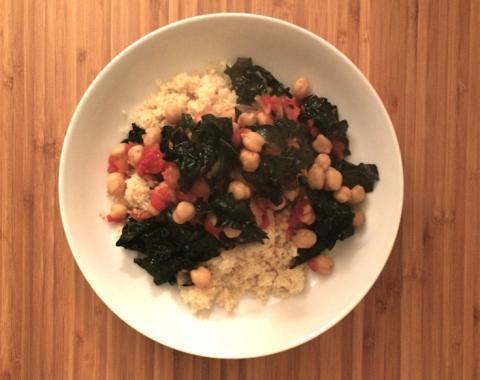 As the seasons change and the weather gets cooler, we start to crave more warming and nourishing foods. Unfortunately, the change in seasons also tends to bring more busyness to our lives - school functions, late hours, and holidays all colliding at the same time. It's a double-edged sword -- craving the heaviness of winter foods while also unable to spend hours in the kitchen.
When I'm strapped for time, I like to dive into my standby recipe repertoire and pull out a quick meal with few ingredients. In the summer, this strategy is unbelievably simple; salads, sandwiches, and cold dishes are easy to whip up in a flash. But as November waxes and wanes, richer and heavier meals prevail, and my quick turnaround in the kitchen is forced to adapt.
Quick meals need a few components: a fast-cooking method, a filling protein, nourishing vegetable, and a base to bring it all together. My quick stew of chickpeas, kale, and tomatoes comes together in a flash and uses many ingredients that may already be found in your pantry. I like to use canned chickpeas and diced tomatoes to speed up preparation time, but if you find yourself with an afternoon to spare, dried beans or fresh tomatoes are a lovely way to recreate the recipe.
This recipe calls for lacinato kale, a hardy winter green, but chard, spinach, collards, or any green would do. Additionally, I chose to use couscous for its quick cooking time, but quinoa, rice, pasta, or even slices of fresh bread make a delicious meal. In essence, this recipe is a light stew that comes together in about 20 minutes, but if you have time to spare, consider allowing each component to cook down longer for a more robust and flavorful dish. Enjoy!
Chickpeas, Kale, and Tomato Stew:
Serves 2
Ingredients:
2 tbsp olive oil
½ onion, diced
1 clove garlic, crushed
½ tsp crushed red pepper flakes
1 15oz can fire roasted diced tomatoes
1 15oz can chickpeas, drained and rinsed
1 bunch lacinato kale, ribs removed and chopped
1 cup couscous
1 cup water
Salt & pepper to taste
Parmesan cheese, shredded (optional)
Method:
Heat a large pan over medium heat, and then add olive oil, onion, and garlic and cook until fragrant, about 5 minutes. Add crushed red pepper and a pinch of salt and pepper, and then add tomatoes. Cook 5-10 minutes, until tomatoes are lightly stewed.
Meanwhile, bring water to a boil with a drizzle of olive oil and a pinch of salt. Add couscous, cover, and turn off heat. Let sit for 10 minutes.
Add chickpeas to tomato mixture, cook 5 minutes, then add kale. Stir to combine and continue to cook until kale is wilted. Add salt and pepper to taste.
Fluff couscous with a fork and portion into wide, shallow bowls. Top with a hearty serving of chickpeas, kale, and tomatoes and top with parmesan.