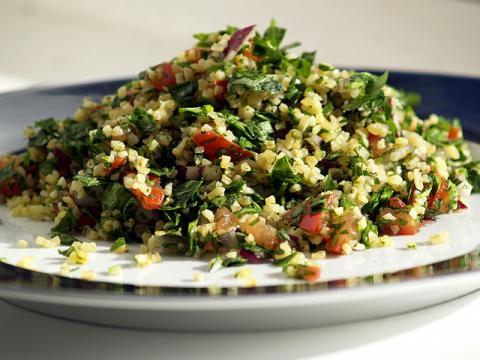 This dish will make you reconsider how you use herbs in cooking. The epitome of fresh, tabbouleh is a classic Lebanese herb salad. If you have never tried Lebanese food before, then let this be your first taste.
Traditionally, tabbouleh is made with bulgur wheat, parsley, mint, tomato, cucumber, and lemon. Loads of parsley and the hint of mint shine in this dish. Bulgur makes the salad substantial enough to eat as a meal, but it can also be eaten as side dish. The addition of kale in this recipe is a nice twist that packs in more nutrients.
If you have a cookout or dinner to attend and don't know what to bring, try this recipe. It's incredibly simple and can be prepared the night before.
*Grain substitute: If you can't find bulgur in the store, try couscous. If you are gluten-free, quinoa can be used as well.
Time: 35 minutes (plus optional 1 hour refrigeration time)
Servings: 4
Ingredients:
½ cup bulgur wheat
1 cucumber, peeled
2 tomatoes
2 cups kale
4 green onions
1 bunch flat-leaf parsley
5-10 mint leaves
1 lemon
2 cloves garlic
1 tsp. salt
salt and pepper, to taste
Directions:
To prepare bulgur, boil 1 cup water then stir in bulgur. Immediately remove from heat and let stand for 20 minutes, covered.
Meanwhile, dice tomatoes and place in medium sized bowl. Add 1 tsp. salt, gently mix, and let rest for 10 minutes. Finely chop cucumber, kale, green onion, garlic, parsley, and mint. Add to tomatoes. Squeeze in lemon. Mix in bulgur. Add salt and pepper to taste. Serve at room temperature or refrigerate for up to one hour before serving to let flavors meld.
Cover Image Source: Wikimedia