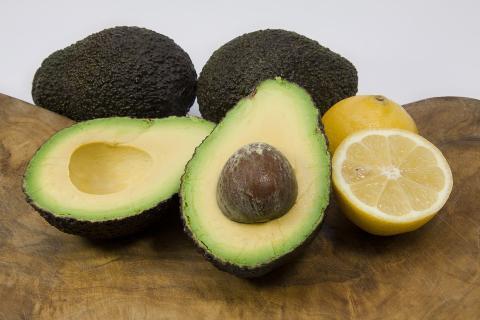 I know I've said it before, and I'll continue to say it time and time again—I'm a California girl. So, what exactly is that supposed to mean? It's simple, really. It means that nothing, and I mean nothing, can come between me and my avocados.
These magical fruits are delectably creamy, a good source of fat, and surprisingly versatile. You're probably used to seeing these savory fruits in, well, savory dishes, but they work wonders in sweet preparations, too. If you crave avocado first thing in the morning, we have something in common. However, if avocado toast just ain't cuttin' it anymore, and you're looking for new ways to inject avocado goodness into your diet, I've got a few simple suggestions for you. By the way, you'll notice some of the same few ingredients being used alongside avocado for one good reason—avocados are absolutely delicious as is, and they don't need much to enhance their natural flavor. Just remember to not go overboard; avocados may be healthy, but they're far from being calorie-free.
Dressing: Whenever I put chunks of avocado in my salad, an avocado-less bite never goes unnoticed. So, my solution to getting avocado in every single bite is to turn it into the dressing! Just blend up an avocado with some garlic, lemon juice, olive oil, salt and pepper. Then, you can add water to thin it out if necessary. Talk about a salad upgrade. Here's another suggestion for a homemade avocado dressing.
Potato Salad: I've never liked mayonnaise (vegan or not), and I can almost guarantee that I never will. If you're the same way, give mashed avocados a go next time you make potato salad. Since both mayo and avocados are ultra-creamy, swapping one fat component out for another will be a seamless transition. I promise you won't miss the blandness of regular ol' mayo-based potato salad.
Sandwiches: When you don't eat meat, or feel like eating a meatless sandwich, it can be tough to create something that actually fills you up. Move aside peanut butter and jelly, chickpeas (garbanzo beans) and mashed avocado have arrived. All you have to do is mash some chickpeas and avocado together, add a splash of lemon juice, and season with salt and pepper. This simple sandwich is hearty, healthy, and full of flavor.
Sauce: We've all had spaghetti with marinara, fettucine Alfredo, and pesto pasta, but have you tried avocado noodles? Yeah, didn't think so. Blend up avocado, some basil and onion (if you'd like), garlic, lemon juice, olive oil, and salt and pepper. Then, add some of your pasta water to reach your desired consistency. This is one creamy, dreamy pasta sauce.
Smoothies: Ah, finally a sweet use of avocado. If you're a smoothie for breakfast kind of person, this one's for you. Make your smoothie as usual (frozen fruits, juice or milk, whatever), but this time add half of an avocado to the mixture. Your smoothie will taste just a bit more amazing, and will have a much creamier texture. You might even think you're treating yourself to a morning milkshake. You're so very welcome.