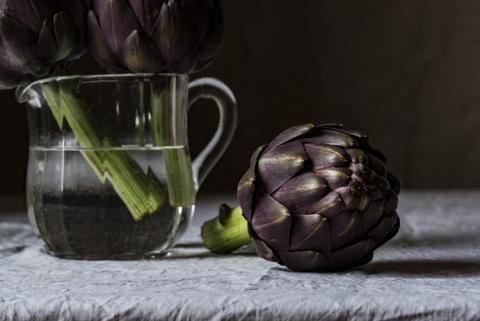 There are lots of good reasons to eat seasonally: when fruits and vegetables are fresh, their nutrition is at its peak, and it's more environmentally sustainable, for starters.  Ayurveda encourages eating seasonally too, and if you're growing your own food, then it just makes sense to eat seasonally.  But it can be difficult to eat the fruits and vegetables that are in season if they're new to you, or if you've eaten them for six weeks in a row.  Moreover, we're in the tail end of winter, so a lot of the yummy, flavorful fruits and veggies that will be ripe in a few weeks aren't quite showing up in stores yet.  By now, we've been eating winter greens and root veggies for months, and it can be hard to get excited about food when we're just ready for warmer days.
It's easy to feel stuck, bored, or lost when it comes to incorporating the season's peak produce into your actual meal plans.  So let's take a look at a few of March's finest, freshest offerings and see how they're best prepared.
Artichokes
Artichokes are great for cardiovascular health, keeping cholesterol in check, improving blood pressure, and reducing inflammation.  They're full of antioxidants, too, which fight cancer.  You might be surprised to learn that eating artichokes is a great way to promote detoxification in your liver and kidneys.  These are just a few reasons that you should experiment with this flower-like looking veggie.
·         This is as simple as it gets: steam an artichoke and serve it warm with butter—decadent and sure to elevate any meal.
·         Alright, this isn't the healthiest way to enjoy the unique flavors of artichoke, but battering it in beer before frying it will impress guests—especially if you're going for a state fair food themed vibe.
·         Put artichokes on top of stuff—on sandwiches (try a grilled cheese), on pizza, on baked potatoes, on salads, in pasta (try it with alfredo).  Get creative! (links)
·         Slip them into cheese quesadillas to increase the veggie quotient of the meal.
·         Make it a two-fer—throw in kale (another item on this list) to make this creamy green soup.
·         Here's a surprising way to eat artichokes—and it's great if you've been eating them for a few weeks and are ready for something different.  Whip them into a yummy, lemony pesto spread that will taste great on just about everything.
Kale
OK, it's not shocking news to hear that kale is good for you.  But let's review why…first of all, it's got more iron per calorie than beef.  That's in addition to vitamins K, A, and C, and other good stuff like calcium.  Yes, calcium!  Per calorie, kale has more calcium than milk, making it an excellent way to get strong bones.  Along with its super low calorie count, these things make kale a great way to get your daily dose of good-for-you stuff.  Add to that the fact that it is anti-inflammatory and helps support your cardiovascular system and keep your heart healthy in general, and you should really reach for it more often.  It even decreases your risk for certain cancers, and improves your ocular health, too.
·         Of course, it's easy and classic to eat kale in a salad.  Make it your own with a tahini lemon dressing like in this recipe.  For a different kind of salad, use kale in a tabbouleh recipe—the shredded, smaller pieces of kale make it feel more like an herb than a hearty green.
·         But what about using a kale leaf as a wrap for a burrito?  Or throwing kale leaves in a blender with a few other ingredients for a twist on classic pesto?  Get more out-of-the-box ideas here.
·         Kale is such a great source of so many vitamins—it makes perfect sense to add it to your smoothie for an extra boost of greens.  The matcha tea powder in this smoothie recipe is a unique addition!
·         Always a classic:  When in doubt, roast those kale leaves till they're a crispy chip, and dip in your favorite condiment.
·         You can add kale to your favorite soups or stews to get their benefits when it's cold out and not much else is in season.  This Chickpea, Kale, & Tomato Stew comes together in no time.
·         You can use kale pretty much anywhere you would use spinach—in omelets and frittatas, for example.  This Chickpea "Frittata" with Olives, Tomatoes, & Kale is vegan-friendly by using chickpeas instead of eggs.
Lemons
You're wrong if you think of lemons as a throwaway garnish on your iced tea or water glass.  They're not only the star ingredient in a variety of home remedies—fever breaking, indigestion curing, weight loss, arthritis—as well as various household hacks—they're little yellow balls of antioxidants, vitamins, and minerals.  You can get vitamin C from lemon juice, if you don't mind its tart flavor (mix it with other juices to make it more palatable).  Vitamin C is an antioxidant that fights cancer and also helps your body produce collagen.  The flavonoids in lemons can help reduce the risk of stroke and maintain a good blood pressure.  It also boosts the immune system and improves the absorption of iron (so pair lemon with another item on this list—kale!).  Lemons are also excellent for detoxing your system and soothing your digestive tract—which is why many people start their day with warm lemon water.
·         The easiest way to use lemons is to add the fresh-squeezed juice to your water or tea and enjoy them throughout the day.  Try adding strawberries and lemon both for an extra delicious treat!
·         Use lemon juice in this no-bake Lemon Snow Tart recipe for an indulgent but healthy dessert.
·         The lemon flavor will be oh-so-familiar in this vegan, healthy spin on a Chinese restaurant favorite, Crispy Mock Lemon "Chicken."
·         Lemons and blueberries are the perfect partners in this pancake recipe that is suitable for vegans.
·         Add a healthy dose of lemon juice to gazpacho to make the flavor pop.
·         Along with dill, the lemon juice makes the flavor in this Vegan Potato Salad extra tangy.
·         Lemon juice is a crucial ingredient in a variety of salad dressings.  Experiment with ratios and ingredients until you find your dream dressing.
Parsnips
These root vegetables are a great source of fiber, which promotes digestive health.  Parsnips are also a good source of folate, potassium, and vitamin C.  Vitamin C is an antioxidant that supports health of the immune system and bones, and it can fight cancer-causing free radicals.  Your bones also get a boost from the potassium in parsnips, which also helps regulate blood pressure.  And folate is an important B-vitamin for women who are pregnant—but it also promotes nervous system health and lessens the risk of depression, heart disease, and cancer.
·         Give potato chips a healthy twist with this oh-so-easy recipe.  It's extra great because you can add in other vegetables you have around to create a rainbow array of healthy chips!
·         Blend parsnips into mashed potatoes—they'll get creamy and give the traditional dish a complex flavor that's barely noticeable.
·         Parsnips can also get creamy when pureed into a soup—mix them into cauliflower soup, or go all in and make roasted parsnip soup.
·         Cut parsnips into finger-sized strips and roast them to make veggie fries.  Then, dip them in your favorite condiment.  If you have carrots, potatoes, or other root vegetables around, add them to the baking sheet!
·         Add parsnips to chicken or vegetable soup for a new flavor.