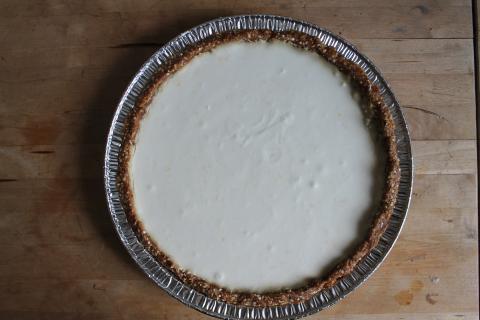 So you might be wondering what lemon snow exactly is…I remember making it in my first grade class. One of my classmates brought in a recipe for "lemon snow" and the teacher thought it would be cool to make it. It was essentially a lemon popsicle in a paper cup, made with milk, lemon juice, and sugar. So strange…it was probably some ancient Scandinavian recipe from my classmate's family lineage. I just remember it tasting so good and being possibly the most lemony and zesty thing I've ever had. Even to this day I still have some sense memories of it and they all came rushing back after I had a piece of my No-Bake Lemon Snow Tart. 
This no-bake tart comes together in a snap and is a perfect ending to a healthy meal. It's incredibly zesty, I will warn you, and not so sweet—so if you want to up the sweetness, add a couple more tablespoons of honey.
First we start with the crust!
1/2 cup quinoa flakes (or oats)
1/2 cup raw almonds 
1 1/2 cups pitted dates
Dump the quinoa flakes or rolled oats into a food processor and pulse until crumbled. You're looking to make a coarse flour here. Transfer to a bowl and then add the almonds and dates. You could alternatively use raw cashews. Grind in the food processor until it starts sticking together a bit. Add in the quinoa flour you made and continue grinding until it's all combined. It will look like a fine meal of dates and nuts. Now dump the crust mixture into a 13-inch pie pan. (No need to oil it.) Press it down to form a crust. Chill in the fridge while you make the filling. 
Now onto the filling!
1 can full fat coconut milk
1/4 cup coconut butter, melted
Juice from 1 lemon
Zest of 2 lemons
3 Tablespoons of honey
Stevia to taste
Pinch of salt
1/4 teaspoon of vanilla
Empty the can of full-fat coconut milk into a large bowl. Make sure it's full-fat. Whisk the milk to get out the lumps, until it becomes totally smooth. It will look like a thick cream. Careful not to "whip" it too hard—be gentle, as coconut milk tends to separate when you whip it too fast. Add in the honey, lemon juice, lemon zest, stevia, vanilla, and melted coconut butter. Make sure to wait until the melted coconut butter cools to room temperature before you mix it in. Continue to whisk the mixture until it's completely smooth…and lemony! Pour into your crust and let cool in the fridge either overnight or for at least 5 hours. You will be left with a cool and creamy tart just waiting to be cut into!