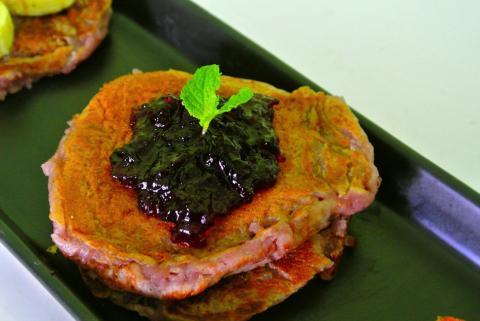 Blueberry pancakes are a classic that many of us grow up enjoying, but probably don't make for ourselves very often. Revisit this delicious breakfast meal with a vegan twist! These pancakes are egg-less, thanks to a banana substitute which also adds a bit of natural sweetness, cutting out some of the sugar that would traditionally be used. The blueberries and lemon create a flavorful combination, with the lemon bringing out the slight tartness of the blueberries. Top the pancakes with powdered sugar, fruit or your favorite syrup!
Ingredients:
1 2/3 cups flour
1 Tablespoon sugar
1 Tablespoon baking powder
¼ teaspoon salt
1 ½ cups almond milk (or another non-dairy alternative)
2 Tablespoons lemon juice*              
1 Tablespoon lemon zest*
2 Tablespoons vegan butter, melted
1 ½ teaspoons vanilla extract
1/2 of a banana, mashed
1 cup blueberries
*One lemon produces about 2 T. of juice and 1 T. of zest*
Directions:
-Start by heating a pan or griddle over medium-low.
-If using a fresh lemon, juice and zest it into a medium bowl before adding the almond milk, melted butter, vanilla extract and mashed banana.
-In a (separate) large bowl, mix the flour, sugar, baking powder and salt together.
-Pour the wet ingredients into the large bowl of dry ingredients and stir until well combined.
 -Now add the blueberries.
-Add some oil or vegan butter onto the skillet before dropping the pancake batter. I suggest using about 1/4 cup of batter for each pancake.
-Cook the pancake for a couple of minutes on each side until golden brown.
-Serve with your favorite toppings!