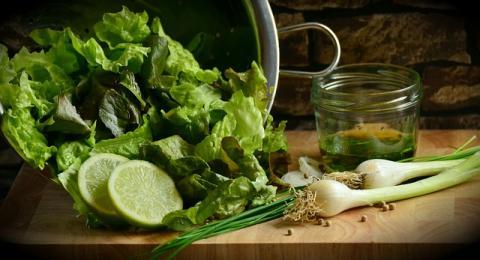 March is finally here, which means it's time to reintroduce spring! Yay! Feel free to thaw out because warmer weather is headed our way. I'm stoked that I'll soon be able to enjoy many of my favorite produce items that I've gone months without. As winter winds down and we happily greet the sunshine we've been yearning to feel again, we can rejoice in this long awaited, special time of year by preparing meals featuring the best, freshest seasonal produce March has bestowed upon us.
1.     Greens: March means spring greens. Right now, spinach and various lettuces are in their prime. They don't call it spring mix for nothin'. I've fallen in love with simple salads dressed with three-ingredient vegan "honey" mustard vinaigrette. It's time to think of your summer body, people! However, if you didn't succumb to winter weight gain, I bet a vegan veggie lasagna loaded with spinach sounds like dinner.
2.     Lemons: I consider myself a lemon-lovin', sun worshipping kind of gal. If you're with me on that, nothing says "I'm patiently awaiting the arrival of summer" like an ice cold glass of lemonade, huh? Lately, I've been making myself a quick glass for one when I'm thirsty for a sweet treat. I can't wait to infuse my lemonades with various summer fruits, too! Also, if you haven't had lemon curd before, now is the time to make it. I keep some that I made in the freezer; it's great on ice cream, and would surely make a mean lemon bar.
3.     Limes: If lemonade isn't your thing, how about some limeade for those of you who appreciate some tartness? You can even try out making lime curd! Before I went vegan, key lime pie had my heart. So, I think it's about time I came up with a vegan-friendly version.
4.     Nopales: Never heard of nopales? It's Spanish for "cactus leaves!" If you like green beans, you just might enjoy these. They're similar in taste, but with a bit of tartness. After carefully removing the sharp spines with a vegetable peeler, cook the nopales, and add them to your favorite Mexican dishes. My Mexican family members introduced me to nopales, in Mexico, nearly seven years ago. Then, last September, I ate nopales again at a fabulous vegan Mexican restaurant in Monterey, California. Go experiment with a food that's new to you!
5.     Peas: Honestly, I don't understand how so many kids hate peas. They're wonderfully starchy, yet sweet legumes. Adding peas to rice and pasta dishes is a delicious way to stretch the food you've got. If you're a real spring pea fanatic, a piping hot bowl of bright green pea soup could warm you up. I love them simply prepared with onions, garlic, vegan butter, salt and pepper. For an ultra-comforting pea-centric dish that's, well, to die for, you must make my noodles and green pea casserole.