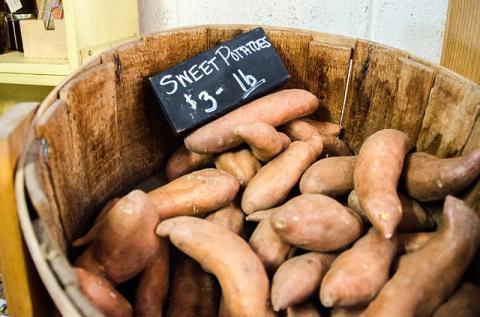 Mashed Sweet Potatoes with Cauliflower
*Serves about 4
This recipe is perfect for picky eaters! Whether you want to work more veggies into your own diet or your little ones', this recipe is a great way to do that without compromising the deliciousness of mashed potatoes. I used sweet potatoes this time (which are actually root vegetables rather than true potatoes!), but with thousands of different potato varieties growing across the world, you can easily experiment with something new and interesting. Sweet potatoes are a particularly good choice for their fiber and vitamin content, as well as their sweet taste. If you prefer your sweet potatoes to be a little less sweet, try the white or light yellow ones rather than the orange variety.
Ingredients:
2 medium sweet potatoes
2 tablespoons vegan butter
1 cup almond milk
1-2 cups chopped cauliflower
Salt & pepper to taste
Directions:
-Fill a medium pot with water and heat until boiling.
-Peel and cut the sweet potatoes into about 1-inch pieces before adding to the boiling water.
-While the sweet potatoes are cooking, steam and chop the cauliflower into small pieces.
-Once the sweet potatoes are softened (about 20 minutes), remove from heat and strain out the hot water.
-Mash the sweet potatoes with a mashing tool or a large fork.
-Mix in the vegan butter, almond milk and cauliflower, until it reaches a creamy consistency.
-Add salt and pepper to taste.