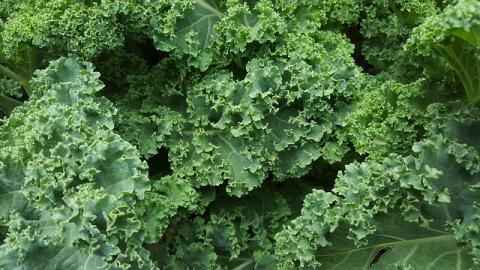 Kale is one of the most nutritious foods available—hence why this leafy green continues to takeover menus across the nation. Just 1 cup of raw kale provides about 3 grams of protein and a day's worth of vitamin C, in addition to large amounts of vitamins A and K. As the kale fad continues and grows, it's important to find lively recipes that help balance out the bitter flavor and tough texture of kale.
This Mediterranean kale salad is a new favorite of mine since jumping on the kale bandwagon. Not only does the salad's variety of ingredients pack a flavorful punch, it also takes a mere 10 minutes to make—perfect for lunch or as a quick dinner option. It's important to note that there are several types of kale—curly, flat, green, red—so try them all to decide which one you like best. (I, personally, prefer Tuscan kale.)
While there are a ton of kale fans out there, there are also some kale haters. When making this recipe, one way to help appease them is by mixing in some romaine lettuce to provide a varying texture. Before you know it, they'll have switched to the kale side like the rest of us.
Mediterranean Kale Salad
Serves 3 to 4
1 large bunch of kale, tough stems removed
4 ounces sun-dried tomatoes, chopped
4 ounces Kalamata olives, chopped
½ cucumber, chopped
¼ cup crumbled feta cheese
1 lemon
2 tablespoons olive oil
½ teaspoon oregano
2 garlic cloves, crushed
Salt and pepper to taste
Chop the kale into bite-size pieces and place in a bowl. Massage the kale (yes, massage the kale) by reaching into the bowl with clean hands and grabbing handfuls of the leafy greens. Scrunch and release for about 30 seconds until the kale is fragrant so that it will be more palatable.
Slice the lemon in half, and squeeze the lemon juice over the kale, trying not to let any seeds get into the salad. Add the olive oil, oregano and garlic cloves, and toss the leaves to make sure they're evenly coated. Let the salad marinate for 10 minutes.
Before serving, add the sun-dried tomatoes, Kalamata olives, cucumber and feta cheese, and salt and pepper to taste. Toss one more time before serving.