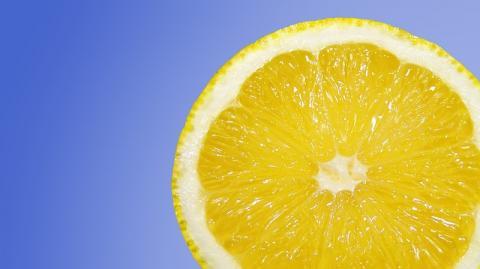 Eating a raw lemon isn't necessarily pleasant. Lemons are sour, often distasteful, and can bring scowls to our faces within moments. While eating one by itself may be a little out of the ordinary, the health benefits of lemon juice seem to go on forever. Here are five known benefits of drinking or using raw lemon juice:
5) Soothes The Stomach: Sometimes, the things we eat don't sit right, but there is a natural cure for that discomfort.  Lemon juice is known to cure things like indigestion, and simply adding a few drops to your meal can help relieve you of the nasty pains that come later.
4) Reduces Fever: It is flu season, and you've come down with all the annoying symptoms: runny nose, fatigue, and worst of all, a burning, 102-degree fever. Lemon juice can treat these symptoms and even break your fever early by increasing perspiration, thereby releasing any blocked toxins through the pores.
3) Provides A Surge of Vitamin C: Drinking lemon juice is actually a good way to avoid getting sick in the first place. Lemons are high in vitamin C, known for boosting one's immunity to fight off any "invading entities" that may be traveling through one's body. Lemon juice also works as a blood purifier, cleansing one's veins and arteries and helping to remove several contaminants.
2) Enhances Hair: When we get up in the morning, part of our daily routine involves fixing our hair, or at least making it presentable. Apply lemon juice to your hair, and witness the strength and natural shine it's bound to garner over the next few days. Applying lemon juice to the scalp can also aid with dandruff, hair loss, and other related problems.
1) Makes Skin Glow: As an antioxidant, lemon juice keeps one looking young by helping with the skin. A natural remedy for acne, eczema, wrinkles and blackheads, lemon juice is practically a godsend for teenagers and the elderly alike. It can also bring a healthy glow to "ye old epidermis" when ingested regularly.
In addition to drinking lemonade, you can get more lemons in your diet by adding some juice to salads, pastas, and rice dishes, flavoring your favorite veggies with a few squirts of lemon, or adding a lemon to your favorite smoothie or juicing recipe!"