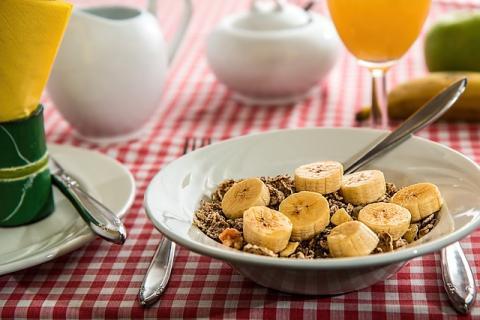 Sometimes it's difficult to find the time to workout during the work week, let alone plan meals around your workout schedule. That's why these three no-cook recipes make eating lunch or dinner after a workout easy. Each one takes less than 15 minutes to prepare and is also packed with protein to keep you feeling healthy well after the workout ends.
Each one of these recipes is designed for a single person, but can easily be multiplied. For the smoked salmon salad and gazpacho, feel free to add more lemon juice or olive oil depending on your taste preference.
Mediterranean Turkey Wrap
1 whole wheat tortilla
2 slices turkey breast
2 tablespoons goat cheese
8 spinach leaves
1 ounce Kalamata olives, chopped
1 ounce sun-dried tomatoes, chopped
Spread goat cheese into the center of the whole wheat tortilla. Place turkey breast, spinach leaves, Kalamata olives and sun-dried tomato on top. Wrap up into a burrito, and serve.
Smoked Salmon Salad
2 cups spinach
1 cup arugula
2 ounces smoked salmon, cut into bite-size pieces
2 radishes, sliced
1/4 cup capers
1 teaspoon chopped dill
1 tablespoon fresh lemon juice
1.5 tablespoons olive oil
In a large bowl, whisk the lemon juice, olive oil and dill. Add spinach and arugula, and toss well. Scatter salmon, radishes and capers over the top, and serve.
Gazpacho
1/2 pound tomatoes, roughly chopped
1/4 onion, chopped
1/2 red bell pepper
1/4 pound cucumbers, chopped
1 clove garlic, peeled
2 tablespoons lemon juice
1 tablespoon olive oil
1 teaspoon cilantro, chopped
Salt and pepper to taste
Place the tomato, onion, red bell pepper, cucumbers and garlic into a food processor, and pulse until pureed. Slowly add the lemon juice to taste. Top with cilantro, olive oil, and salt and pepper, and serve cold.