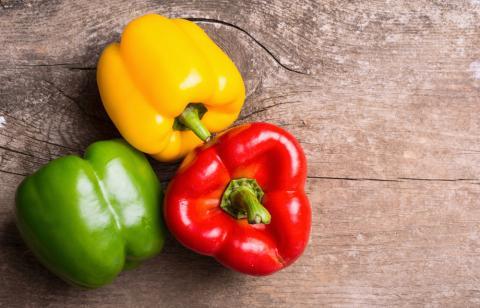 Bell peppers are a member of the family Solanaceae or Potato family of the genus Capsicum L. or pepper P containing four species. The plant is known by its scientific name capsicum and is commonly called sweet pepper. The name bell pepper was derived from the shape of the fruit. Though in the genus Capsicum, bell peppers do not contain capsicum, a substance that produces the heat in peppers.
Bell peppers are native to Central and South America and have been cultivated for approximately 9000 years. The fruit is rich in nutrients and has many health benefits and can be stored in the refrigerator for about a week but will lose some of its beneficial nutrients. It is also a main ingredient in the preparation of some condiments. Bell peppers are a versatile food that can be eaten raw, prepared in many ways, and used as an ingredient in a multitude of recipes.
What Do Bell Peppers Look Like?
Bell peppers have a glossy outer skin that starts as a deep green and changes hue as it matures to red, yellow, and orange; some rare varieties will ripen to white, purple, blue, brown, or black. These color varieties depend on the time of harvest. The most common are the green bell peppers which are the least sweet in flavor and have a slight bitter taste, as do the purple varieties. The riper red, orange, and yellow bell peppers have a sweet, fruity flavor.
They grow in a bell shape that can either develop three or four lobes. The lobes do not indicate the gender of the fruit as the reproductive organs are present in the flower of the plant but they are a characteristic of pepper plants and can develop three, four, and sometimes five lobes. Bell peppers mature to approximately four inches in length and three inches in width.
Health Benefits Of Bell Peppers
Rich in nutrients, bell peppers contain vitamins A, B1 (thiamin), B3 (niacin), B6 (pyridoxine), B9 (folic acid or folate), C, and K; also found in bell peppers are fiber, sugar, protein, and sodium. The vitamins C and A make it an antioxidant and carotenoid rich food. These substances prevent and lower the risk of developing diseases that include cancer, heart diseases, and ocular disorders like macular degeneration, as well as boosting the immune system. Vitamin C also aids in maintaining healthy skin.
Bell peppers are low in calories, making them an excellent food for those who are on a weight reduction diet. Adding bell peppers to the diet improves disposition, lessening mood swings by balancing hormones due to its vitamin B6 content. It prevents birth defects making it an excellent food for pregnant women because of the presence of folate.
How To Grow Bell Peppers 
Bell peppers are a warm climate plant that needs a long growing period from sixty to ninety days so it is best to start them indoors eight to ten weeks before the last spring frost. The plant needs full sunlight and well-draining organically rich soil with consistency between sandy and loamy to ensure drainage and warmth. Fertilize the planting area a week before sowing in ground that has not been used for other members of the Potato family. Take plants outside for a few hours every day about a week before planting to acclimate the seedlings. When the night temperature does not go below sixty degrees Fahrenheit transplant the seedlings eighteen to twenty-four inches apart and as deep as the root top so as not to cover the stem. Once the plant fruits, apply fertilizer and use a cage or some type of support to prevent the plant from bending.
Eating Bell Peppers
Bell peppers are a versatile food. When choosing bell peppers make sure the skin is firm and feels heavy. The ripe fruit is dried and powdered to make paprika. They are used in appetizers, as a snack, and as an ingredient in soups and main dishes. They add color to salads and their subtle flavor adds variety to many dishes. All colors of bell peppers are excellent roasted and stored in jars or used to top pizzas. They can be canned for future use.
Recipes Featuring Bell Peppers
Looking for more inspiration to incorporate bell peppers into your diet?  Try one of these recipes!