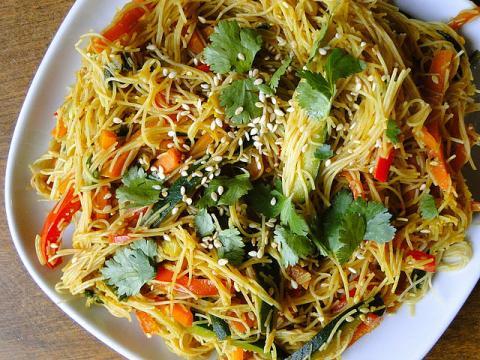 The options are endless when it comes to takeout, which makes it easy to rely on restaurants for your daily grub. Hey, sometimes you just need some hot, comforting noodles conveniently packed up in one of those cute cardboard containers. But if takeout becomes a daily habit, you could be heading for some problems.
Takeout noodles can be incredibly high in sodium and fat -- in fact, some dishes can reach up to 1000 calories per serving: That's more than half of an average person's daily caloric intake. In addition, most takeout meals have high amounts of sugar hiding in the sauce which, along with the carb-rich noodles, can spike blood sugar pretty quickly! Another problem with these conveniently packed meals is they contain little to no fiber, and are often lacking in the protein department.
Before you think about picking up some noodles or General Tso consider other healthier options. Better yet, whip up one of these takeout dishes to bring on the go! Here are 3 takeout-style meals gone vegan:
Curried Vermicelli Noodles
Makes 2 large servings or 3 regular sized servings.
These noodles are packed with flavor and inspired from the golden Singapore-style noodles served in restaurants.
6 oz. brown rice vermicelli
1 zucchini, julienned
1 cup julienned carrots
1 red pepper, julienned
4 green onions, sliced
1 clove garlic, minced
1 inch piece of ginger, minced
1/2 a chili, seeded and minced
1 1/2 tbsp rice bran oil, for frying
3 tbsp tamari
4 tbsp water
3 tsp curry powder, more or less depending on curry powder potency
Juice of 1 lime
3 tbsp sesame seeds, toasted
Chopped cilantro (1 tbsp chopped) + garnish
Pepper, to taste
Soak vermicelli in hot tap water until softened. Heat oil in pan, add in garlic, ginger and chill, and cook for 1 minute. Add in green onion and rest of vegetables. Cook until vegetables are tender. Add curry powder, and cook for 1 minute until fragrant. Add tamari, water and lime juice, and continue cooking for 1 more minute. Add vermicelli, sesame seeds and cilantro. Toss and cook for another minute. Serve hot.
Veggie Ramen Soup
Makes 4 servings
Ramen is supposed to be one of the easiest dishes to put together. You can add whatever veggies you like and the thin noodles cook in a snap!
1 cup bok choy, thinly sliced
1 tbsp coconut oil
3-4 scallions, chopped
1 cup daikon root, julienned
2 cloves garlic
1 cup shitake mushrooms, sliced
5 cups vegetable or mushroom broth
1 tbsp miso paste
2 tbsp soy sauce
1 14 oz. package of firm tofu, cut into cubes
12 oz. ramen noodles
Sesame oil
Hot sauce (optional)
In a medium frying pan begin frying garlic, mushrooms and carrots. Cook for 2-3 minutes. Add the broth, miso paste and soy sauce. Stir until combined. Reduce heat to simmer. Fry tofu cubes until golden on all sides, add hot sauce to taste and stir until tofu is coated. Increase heat of broth, and then add tofu, bok choy, noodles and scallions. Cook until noodles are tender. Add sesame oil at the end as a garnish.
Super Simple Veggie Fried Rice
Makes 2 servings
The healthy version of a takeout classic! Regular fried rice can be loaded with salt and unnecessary fat –  this recipe lightens it up with veggies and brown rice!
1/2 red onion, diced
1/2 red bell pepper, diced
4 mushrooms, diced
2 stalks of celery, diced
Handful of spinach leaves, chopped
1 small piece of ginger
1 clove garlic
1/4 tsp chili flakes
1 tbsp coconut oil, for frying
1 1/4 cups cooked brown rice
2 tbsp gluten-free tamari
Squeeze of lemon juice
Pinch of salt
Black pepper, to taste
Sesame seeds
Heat coconut oil in pan on medium heat. Add onions, celery, garlic and ginger and a small pinch of salt. Sauté for 3 minutes, add red bell pepper, mushrooms, and chili flakes, and then continue sautéing until vegetables are cooked through. Add spinach and stir until wilted. Add brown rice and fry for 3 minutes, then add tamari and lemon juice, and cook for a few more minutes. Sprinkle with sesame seeds, and serve hot.
Sources: 
http://www.prevention.com/eatclean/worst-chinese-takeout-dishes
Photo Credit: "Vermicelli" by Jaclyn Enchin is licensed under CC BY 2.0