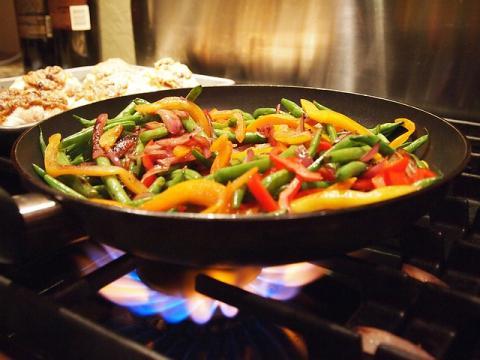 Since subscribing to a CSA box, I find myself frantically making room in the fridge for new produce once a week – the day before my box is delivered, naturally.  Even if you're shopping at the local farmer's market, chances are you find yourself periodically needing to use up a bunch of on-their-last-legs veggies. 
The best solution I've found is to have a regularly scheduled fridge-cleaning stir fry.  Stir fry is great due to its flexibility – you can use whatever vegetables you have on hand, and the sauce is infinitely adaptable – that means you don't get bored and you can accommodate different dietary restrictions (low sodium, specific sugars, etc.).  Added bonus?  While you'll definitely spend some quality time with your chopping board when prepping this dish, you'll more than make up for it in time saved over the stove (especially if you omit the tofu) – one of the great things about stir fries is how quickly they cook, due to the high heat used.  And while using a wok is recommended, you can really create this dish with any large sauté pan.
The recipe I've included for you here has four main components: tofu, noodles, veggies, and sauce.  The tofu is a little time consuming to prepare, so feel free to skip baking OR pan fry it (the texture will just be different) or even omit it altogether – just increase the amount of vegetables you throw in the pan.  Similarly, you can ditch the noodles and serve this dish with rice or another grain.  The vegetables you use are entirely up to you – I've given you a sample of the odds and ends that might make it into one of my dishes here.  (Remember: it's about using up produce that needs to be eaten to avoid wasting it!)  The sauce is admittedly heavy on the soy sauce – you can use a low sodium soy sauce or Bragg liquid aminos instead, and you can adjust the amount of sweetener you use, too.  I usually make more sauce than I need and add just what is necessary to cover the veggies, tofu, and noodles, so keep in mind this recipe does make quite a bit of sauce.
What You Need:
1 14-ounce package of extra-firm tofu
8-12 ounces udon noodles, soba noodles, or whole-wheat linguini
4 cloves garlic, minced
1 onion, diced
1 tablespoon fresh ginger, peeled and minced
¾ cup soy sauce
5 tablespoons rice wine vinegar
3 tablespoons sesame oil, plus more for frying
5 tablespoons maple syrup or honey
¼ teaspoon red pepper flakes (or more, to taste)
vegetables – as many as you want (for example, 1 head bok choy, ½ head broccoli, ¼ head cabbage, red bell pepper)
dash or two liquid smoke, optional
1 teaspoon cornstarch, optional
What You Do:
Press the tofu for 15-30 minutes to get as much water as possible out of it.
While the tofu is pressing, mix the marinade for it: ¼ cup soy sauce, 1 tablespoon rice wine vinegar, 1 tablespoon maple syrup (or honey), 1 tablespoon sesame oil, and optional dash or two of liquid smoke.
Dice the tofu into pieces about ½ inch to an inch in size and pour the marinade over them.  Marinate for 15-20 minutes, or as long as desired.
Preheat oven to 375 F. 
Lay the cubed tofu in a single layer on an aluminum foil lined baking sheet and bake at 375 F for 15-20 minutes, flipping the tofu halfway through if you're so inclined.  You don't need the tofu to be completely cooked.
While the tofu is baking, prepare the noodles according to the directions on the package.
While the noodles are cooking, prepare the stir fry sauce: ½ cup soy sauce, ¼ cup rice wine vinegar, ¼ cup maple syrup (or honey), 1 tablespoon sesame oil, red pepper flakes, and cornstarch (optional).  Whisk well and let sit while chopping vegetables.
Chop the vegetables.  Divide them into two categories: those that need to cook a little longer, and those that don't need to cook long.  This isn't an exact science and depends partially on preference: I include the bell pepper, cabbage, and stalk of the bok choy in the first group, and the broccoli and leafy part of the bok choy in the second group.
Heat a tablespoon of sesame oil over medium high heat in the wok.  Add marinated tofu to the wok, making sure each piece of tofu is touching the pan, and let cook over medium heat for 3-4 minutes.  Stir, shake, toss, or move the tofu around in the wok, and cook another 3-4 minutes (the idea is to cook 2 different sides of each piece of tofu).  Set the tofu aside.
Heat a teaspoon or so of sesame oil over medium high heat in the wok.  Add the onion, garlic, ginger, and first group of veggies (bell pepper, cabbage, and bok choy stalk), and stir while cooking for about 3 minutes.
Add the second group of veggies (broccoli and bok choy greens), and stir while cooking for about 2-3 minutes.
Add the tofu and noodles, mixing carefully.
Mix in stir fry sauce a little at a time until sauce coats noodles, veggies, and tofu, about 30-60 seconds.  (You may not need all the sauce, depending on how absorbent your noodles are.)