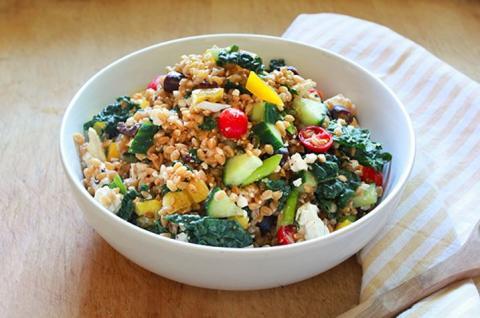 When it comes to food, flavor is only part of the goodness. Eating well is one of many ways we can care for ourselves, and sharing a meal increases its health benefits. When you choose simple, adaptable recipes like today's Mediterranean salad, you can effortlessly extend your wellness circle to include others. This salad can be made to suit gluten-free or vegan tastes, only takes 30 minutes to make, and stores well in the refrigerator.
End Of Summer Self-Care
Self-care is seasonal. Energy is constantly shifting, and these changes affect our bodies and minds. Summer, with its mobile, expansive qualities, is winding down, but there's still time to relish some summer food before we jump into the fall season. In September, the window after everyone comes back from their vacations and before fall begins is a great time for catching up with friends over casual, home-cooked meals. Easy, no fuss socializing is a gentle way to transition into the fall festivity that's just around the corner. After all, we still have access to plenty of glorious produce; and who doesn't love a home-cooked meal?
The Importance Of The Shared Table
I've said it many times in this column, but it's worth repeating: food is about much more than nutrition; it's also about community. In addition to diet, exercise, spirituality, and communing with nature, creating community is a major component of wellness. Social connection improves longevity and protects us from physical disease and depression.
The dinner table is a place to connect and grow. Sharing a meal provides an excuse for people to catch up, and as sociologist Alice P. Julier has pointed out, eating together reduces feelings of inequality. Also, a shared meal forces even the most workaholic among us to put work aside and have a little fun. Americans in particular have historically tended to view productivity and pleasure as opposites, but new thinking suggests pleasure increases productivity.
These days it's difficult to find someone who isn't busy, but regardless of the state of your to-do list, it's worthwhile to slow down for a meal with others. With so many people feeling short on time and adhering to dietary restrictions, easy, adaptable meals are key to sharing a table.  Whether you make today's Mediterranean salad with einkorn wheat berries (as pictured above), Israeli couscous, or quinoa, with or without feta cheese, using local, seasonal produce will maximize flavor. Enough summer still remains for tomatoes, cucumbers, and peppers, and as for sharing your table, that's always in season.
Mediterranean Salad (Vegetarian, Vegan-Adaptable, Gluten-Free)
Serves: 4-6
Time: 30 minutes
Ingredients
1-1/2 cups einkorn wheat berries (or Israeli couscous or quinoa)
1 yellow bell pepper, diced
3 scallions, sliced
1/2 cup olives, sliced
1 cup diced English cucumber
3/4 cup cherry or grape tomatoes, halved
3 ounces feta cheese
1/2 cup chopped kale or Italian parsley (optional)
1/4 cup chopped fresh basil leaves
sea or pink Himalayan salt and freshly ground black pepper, to taste
For the vinaigrette:
3 Tablespoons extra-virgin olive oil
3 Tablespoons fresh lemon juice
1 garlic clove, minced
1/2 teaspoon sea or pink Himalayan salt
freshly ground black pepper, to taste
Directions
Cook einkorn wheat berries (or Israeli couscous or quinoa) according to the package instructions.
While the grains/seeds are cooking, make the vinaigrette: whisk together the olive oil and lemon juice. Add garlic, salt and pepper to taste, and set aside.
Combine the bell pepper, scallions, olives, cucumber, tomatoes, feta cheese, and kale (or Italian parsley, if using) in a large mixing bowl. After the grains/seeds have cooled, add them to the bowl and gently fold everything together. Drizzle with vinaigrette and mix. Add the basil and mix again. Taste and adjust the salt and pepper. Add a little more lemon juice, if desired, and serve.
Additional Cooking Notes
Adaptations for this Mediterranean salad:
Vegans: omit the feta cheese.
Gluten-free: use quinoa instead of einkorn wheat berries or Israeli couscous.
Photos by Shiraz Leyva