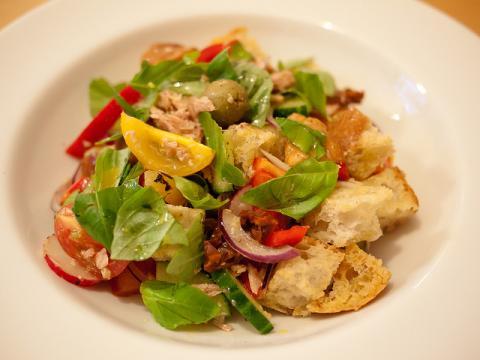 The season is changing, and so are the recipes. Fall brings a bounty of pumpkins, cranberries, apples, and a whole variety of new flavors. Soon the days of ripe red tomatoes, corn roasting on the grill, and juicy watermelon will turn to comforting, hearty meals. Before you embrace the new bounty of nature, give summer a bon voyage with this panzanella salad.
Crisp cucumber, bursting cherry tomatoes, and slightly sweet bell peppers blend in a rainbow of color amongst the hearty bread. In panzanella salads, the more stale the bread, the better. The bread will soak up all the dressing and soften up. The lightness of a summer salad, with the filling quality of a fall meal -- this is going out with a bang.
Summer, this one is for you.
Ingredients
1 cucumber, peeled
1 orange bell pepper
1 pint cherry tomatoes
½ small red onion
½ loaf baguette, stale
½ cup flat leaf parsley
1 tbsp. vinegar (balsamic or red wine)
2 tbsp. olive oil
Pinch salt
Cracked pepper
Directions:
Chop cucumber, bell pepper, and parsley. Place in a large bowl. Slice cherry tomatoes in half and thinly slice red onion, then add to bowl. Next, tear off bread chunks into inch pieces. Add to the salad mixture.
In a cup, whisk vinegar, olive oil, salt, and pepper. Pour over salad and toss until evenly coated. Let rest for 15 mins before eating so the bread can absorb the liquid.
Photo Credit: "Panzanella Salad" by Ian James is licensed under CC BY 2.0