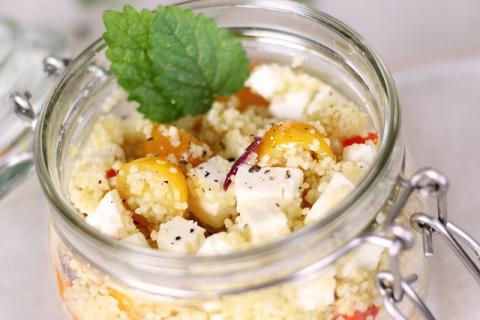 Couscous is a staple in my house. The food so nice they named it twice is extremely versatile and amazingly delicious. As the weather is changing from winter to spring, there is no better way to celebrate than with a veggie-filled couscous salad.
Usually, my recipe involves the smaller couscous with chopped veggies and a hint of lemon and red wine vinegar. It's a staple in warmer weather, and an excellent side to bring to a cookout. However, I was in the mood to switch things up a bit and try something more creative. Craving the Israeli pearl couscous, I decided to change up my usual recipe and try my hand at adding an avocado crema. And not to toot my own horn or anything, but it was a hit amongst the family.
The Israeli couscous has a nice consistency and it mixes rather well with the crema. While I have a few staples of fresh vegetables I like to add, you can add more, less, or your favorite vegetable to this recipe. While the bell pepper color can be substituted, I personally like to add yellow or red bell pepper to get more color and a sweeter flavor. Plus, I like to add a rainbow of color to any dish when I can! You can also roast the veggies, but I prefer mine fresh.
While I'm a huge fan of adding cheese to practically everything, this recipe is completely vegan. Letting the veggies do all the talking, there is no need for any dairy here. If you're gluten-free however, I apologize because Israeli couscous is too good to substitute.
Oh, and please, don't skimp on the crema! That's one ingredient you can't omit. A smooth and creamy consistency with hints of fresh basil turn this couscous from good to grand.
If you're in the mood for a refreshing yet substantial meal, then give this Israeli Couscous with Avocado Crema a whirl. It's simple to make, and tastes like summer is just around the corner.
Servings: about 6
INGREDIENTS
½ pint tomatoes
1 cucumber, peeled
1 bell pepper, orange or yellow
1 red onion (about 1 cup)
2 cups spinach
1 1/3 cup Israeli couscous
1 tbsp olive oil
½ tsp salt, plus a pinch
1 ¾ cups water
Avocado Crema:
2 avocados
2 green onions
1 clove garlic
¼ tsp salt
2 lemons, juiced
For Couscous:
To prepare the couscous, heat 1 tbsp olive oil in a pot and add couscous. Toast couscous for 5 minutes. Add 1 ¾ cup boiling water. Cover couscous and simmer for 12 minutes. Fluff and let cool to room temperature.
Meanwhile, chop cucumber, bell pepper, onion, and spinach. Toss in a large bowl. Slice tomatoes in half and sprinkle with a pinch of salt. Add to veggie mixture.
Add avocado crema to couscous and toss until well coated. Add couscous to veggie mixture along with ½ tsp salt. Toss and serve at room temperature.
For Avocado Crema:
Chop avocado, onion, and garlic. Add to a high-powered blender. Add salt and juice of two lemons. Blend until smooth.