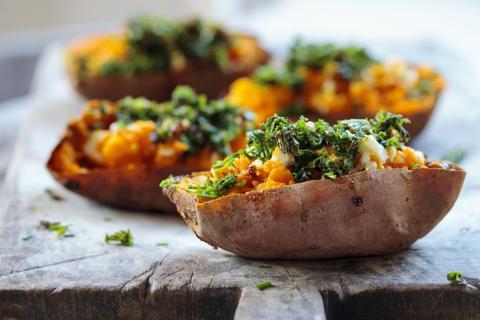 When you're trying to eat healthy, one of the smartest things you can do is meal plan.  Part of meal planning includes choosing dishes that can use the same ingredients so you don't end up wasting food or having just a little bit of one thing left over.
These four recipes do just that: they take a basic ingredient and lay out three easy weeknight meal recipes—plus a lunch—based off that ingredient.  This means fewer items to buy at the grocery store (which means a quicker trip) and also less food wasted.
Since weeknights can be hectic, we've included tips for prepping the meals ahead of time.  Taking a few hours on Sunday to set yourself up for a week of healthy eating can be the key to success!
Meet the Star: Sweet Potato
The central ingredient in these four recipes is the sweet potato. Don't confuse this orange vegetable with its white version—though they're both root vegetables, white potatoes are nightshades.  And although sweet potatoes are a little starchy, they have a low glycemic index.  Furthermore, sweet potatoes are less calorically dense (about 90 in one sweet potato versus 130 in one white potato) and lower in carbs.  Perhaps even more importantly, you're getting more nutritional bang for your caloric buck—sweet potato is a powerhouse source of vitamin A, with about 22,000 IU to white potatoes 14 IU!  Sweet potatoes also have more fiber and vitamin C than white potatoes.
But you shouldn't only eat them because they're better for you than white potatoes!  Sweet potatoes hold their own when it comes to health benefits.  As mentioned, they are so full of vitamin A that they supply about 400% of your RDA.  Their vitamin B content means they offer serious support to the cardiovascular system, too.  You might be used to hearing bananas are a good source of potassium (and it's true!), but sweet potatoes can give bananas a run for their money.  And that fun orange color they have?  That shows they're host to plenty antioxidants that help fight free radicals in the body.
You'll notice a lot of the same ingredients making an appearance in several recipes this week.  That makes shopping even easier!  And it makes sense, because certain flavors just go really well with the sweetness of sweet potato—like black beans and avocado, for example.
In addition to sweet potato, you'll find these ingredients in more than one of these recipes:
onion
black beans
spinach
garlic
bell pepper
Black Bean Enchiladas
You can experiment with these—add more spinach, or try a different leafy green—and make your own enchilada sauce for an even healthier twist.  You can also experiment with different enchilada sauces—red and green both work here!  While there isn't much you can make ahead in these, you'll likely have enough left for a second light meal or lunch—saving you time yet again!
Ingredients
2 cups sweet potato, peeled and diced
1 Tablespoon olive oil
1 onion (red is nice, but any will do!)
3 cloves garlic, minced
1 bell pepper, diced
1-15 oz. can black beans, drained & rinsed
1 cup baby spinach, chopped
2-1/2 cups enchilada sauce
1-2 teaspoons chili powder (can substitute taco seasoning)
tortillas
salt & pepper, to taste
Directions
Preheat the oven to 350F.
Add the sweet potato to a medium pot and add water to cover them.
Heat on high until water is boiling, and then reduce the heat and simmer for 5 minutes, or until fork tender.  Drain.
In a large skillet, heat the oil; then add the onion and sautee for 5 minutes.
Add the garlic and sautee another minute or two, or until the onion is translucent. Season with salt and pepper.
Mix in the bell pepper, sweet potato, beans, and spinach and cook over medium-high heat until the spinach is wilted.  Remove the skillet from heat.
Stir in 1/4 cup enchilada sauce, chili powder, and 1/2 teaspoon salt.
Lightly spread enchilada sauce over the bottom of a large baking dish. 
Fill each tortilla with a scoop of filling (the amount will depend on the size of your tortillas, but start with 1/2 cup and add more if needed).  Roll up each tortilla and place it on the baking dish, open side down to hold it closed.
Spread enchilada sauce over the finished enchiladas.
Bake uncovered for 25-30 minutes, or until the enchiladas are heated through.
Top with cheese, cilantro, green onions, avocado, or sour cream, if desired.
Stuffed Sweet Potatoes
Stuffed sweet potatoes get a southwestern twist with this recipe, which amps up the protein factor while keeping it vegetarian by incorporating black beans.  You can make them more or less spicy and tweak the ingredients to match what you have on hand from other recipes—if you don't have salsa, try fresh tomatoes; corn could be omitted and zucchini could be added.  Most of the cook time involves the sweet potatoes baking—actual hands-on cooking shouldn't take you long at all, especially if you use canned beans, frozen corn, and purchased (or premade) salsa.
Ingredients
3 large sweet potatoes
2 Tablespoons olive oil
1/2 cup onion, diced
1/2 bell pepper, diced
1 clove garlic, minced
1 cup black beans (drained & rinsed if from a can)
1/2 cup corn kernels (frozen is ok)
1/2 cup salsa
1/4 teaspoon chili powder (optional)
salt & pepper, to taste
Directions
Preheat the oven to 425F.
Lightly coat the sweet potatoes in oil and place on a baking sheet.
Bake for about 1 hour, or until they are fork-tender.
While they're baking, heat the oil in a large skillet.  Once hot, sautee the onion and bell pepper for about 5 minutes.
Add the garlic and sautee another minute.
Add the black beans, corn, salsa, salt, pepper, and chili powder (if desired).
Stir and cook until well mixed and heated through.
Once the potatoes are done, scoop out most of their flesh and place it in a small bowl. Mash it slightly and mix with the beans/corn mixture.
Scoop the mix back into the potato skins and serve warm.  Garnish with cheese, green onions, avocado, or sour cream if desired.
Sweet Potato Burgers
This recipe holds together better than any other veggie burger I've tried.  For that reason, they're perfect for making a huge batch in advance and freezing—then any night of the week you're ready for fast burgers that are so much better for you than fast food burgers.
Ingredients 
3 Tablespoons ground flaxseed
1-15 oz. can black beans, drained & rinsed
1 cup grated sweet potato
1/3 cup fresh parsley leaves, chopped
4 cloves garlic, minced
1/2 cup onion, diced
1/2 cup sunflower seeds
3/4 cup oat flour (or flour of choice)
1/2 cup bread crumbs
1/2 Tablespoon olive oil
2 Tablespoons soy sauce or liquid aminos
1 teaspoon chili powder
1 teaspoon dried oregano
1 teaspoon salt
pepper, to taste
Directions
Preheat the oven to 350F.
Make a flax egg: mix the flaxseed with 1/3 cup water and let sit for 10 minutes.
In a large bowl mash the black beans relatively well, but not entirely.  Stir in the flaxseed mixture, sweet potato, parsley, garlic, onion, sunflower seeds, flour, bread crumbs, olive oil, soy sauce, and seasonings, adjusting to taste.
Once well combined, shape the dough into 8 patties.
Bake on a baking sheet for 30 minutes, flipping once halfway through.
Serve with your favorite burger toppings!
Fall Quinoa Salad
This is the perfect fall lunch salad!  The heartiness of the quinoa and sweet potato will keep you full, but you can also add chickpeas for even more protein.  If it's still not enough to keep you happy till dinner time, serve it alongside soup, a slice of quiche, or some hummus and veggies.  You can make this salad ahead of time, but don't dress it until you're ready to eat it.  It's also best to leave off the avocado and cheese until you're ready to serve it.
Ingredients
2 sweet potatoes, peeled & chopped
1 cup quinoa
3 Tablespoons red wine vinegar
1 Tablespoon dijon mustard
1 clove garlic, minced
6 Tablespoons olive oil
4 Tablespoons lemon juice
1 teaspoon dried basil
1/2 Tablespoon fresh thyme leaves
6 ounces fresh baby spinach (or regular spinach roughly chopped)
1 avocado, chopped
1/3 cup dried cranberries
1/3 cup toasted pumpkin seeds
2 ounces fresh goat or feta cheese, if desired
salt & pepper, to taste
Directions
Preheat oven to 425F.
Place the chopped sweet potato on a sheet pan and very lightly drizzle with olive oil.  Top with salt and pepper.
Roast for 30 minutes, or until desired tenderness is reached, flipping them at least once halfway through. (You probably do not want the sweet potatoes super mushy, so check them after 20 minutes if they're chopped small.)
While the potatoes are roasting, cook the quinoa by combining it with 1-1/2 cups water in a small saucepan and bringing it to a boil.
Once boiling, reduce heat, cover, and cook 12-17 minutes, or until water is absorbed.  Let sit covered for 5 minutes off heat.  Fluff and let cool.
Make the dressing: whisk together the red wine vinegar, dijon mustard, garlic, olive oil, lemon juice, basil, thyme, and salt & pepper to taste.
Toss together the spinach, sweet potatoes, quinoa, and cranberries.
Drizzle the dressing over just before serving.  Do not dress and then store the salad!
Garnish with the pumpkin seeds, avocado, and cheese, if using.
Not a fan of these recipes?  Try these sweet potato-friendly recipes instead!