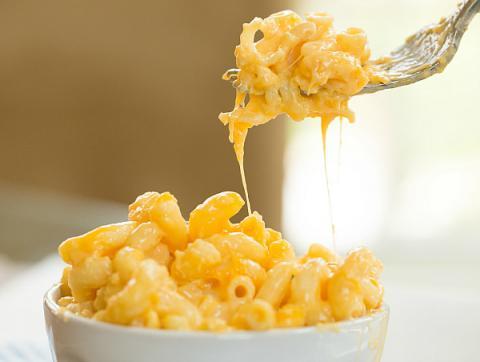 Goodbye, summer; hello, autumn. It really did sneak up on us, huh? I'm ready to be able to close my windows at night, and bundle up instead. I know it's still September, but we'll be carving pumpkins and drinking hot cocoa in no time. In the meantime, it's time to think about all the warm and delicious foods that we tend to eat when the air becomes chilly. That's right. I'm talkin' about comfort food.
If you're eager to eat wonderful, soul-soothing dishes, but are concerned about sacrificing your waistline, I've got you covered. My gluten-free, vegan macaroni and cheese is far beyond just comforting. I'd be willing to say it's to die for, but that hasn't been proven just yet. This mac and cheese has a bit of spice, which makes it even more perfect for the colder weather. It tastes much, much better than any store-bought mac and cheese from your childhood (frozen and boxed alike). Considering how simple it is to make your own, I'm not sure why I ever indulged in any non-homemade variety. I'd also like to mention that you can eat this guiltlessly all season long. Why? This oh, so satisfying, cheesy delight is packed with flavorful pasta and veggies, while delivering much more than a mere sense of guilty pleasure.
Ingredients:
8 oz. gluten-free pasta, cooked 'til al dente
4 tbsp. vegan butter
¼ c. chopped onion
¼ c. gluten-free flour
1 ¾ c. non-dairy milk
8 oz. vegan cheese (cheddar Daiya works well here)
1-2 chipotle peppers in adobo sauce, chopped (I like to give the daredevils some freedom)
Salt & pepper, to taste (garlic powder-optional)
2 medium carrots, chopped
1 large bell pepper, chopped (I like red)
1 c. frozen green peas, thawed
Gluten-free bread crumbs
1 sliced tomato (optional)
Directions:
Preheat oven to 375 degrees Fahrenheit.
In a medium-sized saucepan, over medium heat, melt butter, add onion, and cook until soft. Then, add flour, and cook for about 90 seconds. Stir in milk. Once milk is added, boil mixture for about 1 minute. Off the heat, melt the cheese into the sauce. Add chipotle pepper(s) and seasonings.
Meanwhile, steam carrots and bell pepper until tender.
Last, mix the cooked macaroni with the cheese sauce, carrots, bell pepper, and peas. Place mixture into a casserole dish. Top with bread crumbs and line mac and cheese with sliced tomatoes, if desired. Bake for 30 minutes, or until golden brown, bubbly, and delicious. Enjoy (but, please, let it cool a little first)!
Photo Credit: "Slow Cooker Mac and Cheese" by Brown Eyed Baker is licensed under CC BY 2.0