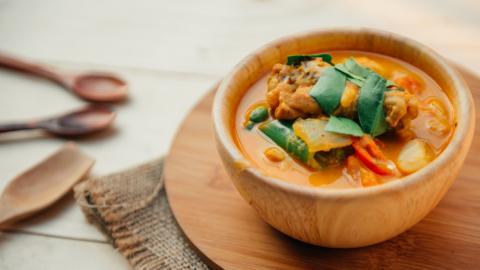 While I was living in San Diego, I fell in love with delicious, savory Thai curry. A vegetarian/vegan Thai restaurant there, Plumeria, had me sold (literally) on its red curry. Now, this is a big deal coming from someone who was certain that she despised any and all things coconut. 
Once I moved, I had to switch to another Thai restaurant with vegetarian/vegan-friendly options for me, Thai Paradise. This led to a new obsession of mine—green curry. Warning: it is addictive. I can't really afford to support my, um, habit. So, naturally, I had to find a cheaper, easy way to get my Thai curry fix, which is making it at home! If you're into truly yummy and slightly spicy foods (coconut fan or not), do yourself a favor by giving this recipe a go.  
Ingredients:
1 can coconut milk
4 tbsp. green or red curry paste (I use Thai Kitchen, but make sure to choose vegan/vegetarian curry if that's important in your diet)
1 ½ tsp. organic brown sugar
1 tbsp. liquid aminos, tamari, or gluten-free soy sauce
Garlic, ginger, and onion powder, to taste
Cayenne pepper, chili flakes, salt and pepper, to taste
2/3 c. frozen green peas, thawed
1 red bell pepper, chopped
1 Japanese eggplant, chopped
Cooked brown rice
½ block organic, non-GMO tofu, sliced and pan-fried (optional)
Directions:
In a large skillet, over medium heat, bring to a boil coconut milk, curry paste, and brown sugar. Then, lower the heat, and simmer for a few minutes. 
Meanwhile, steam chopped bell pepper and eggplant.
Add liquid aminos, other seasonings (for a boost of flavor and spiciness), peas, bell pepper, and eggplant to hot curry mixture.
Serve curry veggies over cooked brown rice, and top with crispy tofu. Dig in, knowing that I'm extremely jealous of you right now.