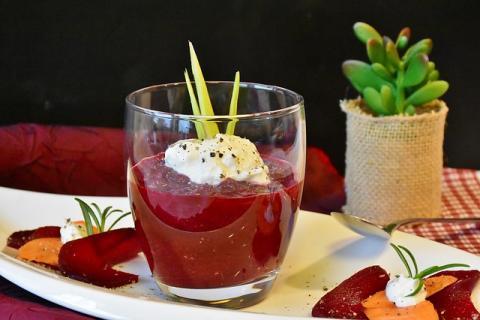 After a long, frigid winter, the warmer weather of spring is more than welcome. Turning from hearty comfort food to light, refreshing meals, spring is bursting with flavor. When the weather turns from cloudy to sunny, it's time to switch from hot to cold soups.
That's why I love gazpacho! Although I can't get enough of a classic tomato-based cold gazpacho soup, I have some beets that are waiting to be used. And since tomatoes aren't quite in season yet, utilizing what I have only makes sense.
A twist on a classic gazpacho, beet gazpacho is a nice transition from winter into spring. The roasted flavor of the beets paired with fresh cucumber, sweet bell pepper, and creamy avocado is the ideal transition soup. Plus, the bright color looks absolutely gorgeous!
This beet gazpacho is pretty simple. While most gazpachos can be all raw, I like to roast the beets to give them a unique flavor – not to mention making it easier to blend. Refreshing, filling, and a break from the norm, beet gazpacho is a nice treat to put on the table.
INGREDIENTS
4 beets
½ cup red onion
1 clove garlic
1 tbsp apple cider vinegar
½ cucumber
1 lemon, juiced
1 yellow bell pepper
1 avocado
¾ cup water
olive oil
To prepare beets, heat oven to 400° F. Rub the beets in olive oil then wrap in foil individually. Roast for 45-50 minutes, or until beets are tender. Let cool.
In a high-powered blender, add water, garlic, lemon juice, apple cider vinegar, cucumber, and bell pepper. Blend until smooth. Next, add avocado, red onion, and beets. Blend until a smooth consistency is reached. If blender seizes up, add more water.
Refrigerate for 1 hour. Serve cold.