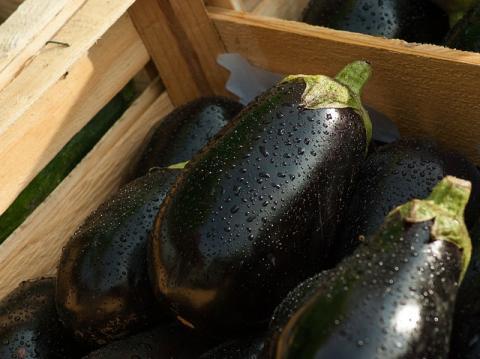 I am constantly searching out inventive ways to prepare eggplant. While eggplant parmesan is a classic, it can be a bit pricey and it takes quite some time to make. Messing around in the kitchen I decided to take one of my favorite seafood stews and turn it into a vegan dish. And I must say, the eggplant is so good that meat eaters are easily fooled.
If you are in need of a cold weather pick me up, this is an excellent recipe. The rich coconut milk and twist of lime result in a filling, refreshing stew. While I usually eat it as is, if you are really hungry, you can serve with a side of couscous or rice.
So grab your eggplant and let's get cooking!
Ingredients:
1 eggplant
1 bell pepper
5 Roma tomatoes
1 large yellow onion
1 can coconut milk
2 tbsp olive oil
1 tsp paprika
1 tsp cumin
2 tsp salt
lime wedges
Directions:
Dice tomatoes and sprinkle with one teaspoon of salt. Chop onion, eggplant, and bell pepper into evenly sized pieces.
Heat olive oil in large pan on med-low heat. Add tomatoes and cook for two minutes. Add onion and cook for 6 minutes. When onions become transparent and tomatoes are cooked down, stir in bell pepper, eggplant, paprika, cumin, and other teaspoon of salt. Cook for 2 minutes.
Next, add the can of coconut milk. Fill the coconut milk can halfway with water and add it to the pan, too. Bring to a boil. Once boiling, cover pan and simmer for 15 minutes. Squeeze lime slices until desired citrus taste is reached, then serve.