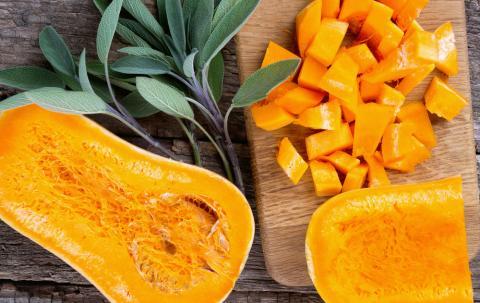 When you're trying to eat healthy, one of the smartest things you can do is meal plan.  Part of meal planning includes choosing dishes that can use the same ingredients so you don't end up wasting food or having just a little bit of one thing left over.
These four recipes do just that: they take a basic ingredient and lay out three easy weeknight meal recipes—plus a lunch—based off that ingredient.  This means fewer items to buy at the grocery store (which means a quicker trip) and also less food wasted.
Since weeknights can be hectic, we've included tips for prepping the meals ahead of time.  Taking a few hours on Sunday to set yourself up for a week of healthy eating can be the key to success!
Meet the Star: Butternut Squash
The central ingredient in these four recipes is butternut squash.  It's often plentiful in the fall, and while it can be a bit difficult to cut open, the payoff is well worth it.  Butternut squash can be roasted or cooked in soups; when pureed, it can replace pumpkin puree in pie or dessert recipes.  The blossom part of the plant can be eaten in a variety of ways, and the seeds can be roasted like pumpkin seeds.  And when cured correctly, it will keep for months!
Its versatility is only one of the reasons you should incorporate it into your diet.  It's a superfood, full of nutrition as well as health benefits like disease prevention.  For starters, butternut squash is a fantastic source of potassium, providing almost 500mg in one cup.  Potassium can help lower blood pressure and risk of cardiovascular disease.  In fact, butternut squash is an excellent food choice for heart health.  It's a good source of folate and beta-carotene, which protects against heart disease and some cancers—and don't forget that it's a decent source of vitamin C, with about half as much per 100g as an orange, meaning it can give your immune system a boost.  All the good stuff inside it means it helps your body with lots of other stuff too—like keeping your eyes and bones healthy, improving circulation and digestion, reducing inflammation, and supporting the nervous system.
In addition to butternut squash, you'll find these ingredients in more than one of these recipes:
onion
garlic
black beans
bell pepper
jalapeno
Chili
There are a zillion different ways to make chili—this recipe uses butternut squash and pairs it with just enough spice and just enough sweetness to make it perfect.  You can add more spice of course, if that's your preference, but I like it best when a little sweetness shines through.  This is one of those meals that warms you from the inside out, especially if you serve it with a hunk of crusty bread.  But don't forget the cilantro and lime wedges for garnish, too!  And definitely make this in advance, if your schedule allows.  It reheats easily so you might want to make a double batch!
Ingredients 
2 Tablespoons olive oil
1 onion, diced
1 bell pepper, diced
1 jalapeno, diced (optional)
1 butternut squash
4 cloves garlic, minced
2 cups vegetable broth
1/2 Tablespoon smoked paprika
1 Tablespoon chili powder (adjust for preferred heat level)
1 Tablespoon cocoa powder
1-2 Tablespoons brown sugar (optional)
1/8 teaspoon cayenne (optional)
2-14 oz. cans diced or crushed tomatoes
2-14 oz. cans black beans
salt & pepper, to taste
Directions
In a large pot or dutch oven, heat the oil over medium heat.
Add the onion and cook about 5 minutes.
Add the bell pepper, jalapeno, and butternut squash and cook another 4-5 minutes.
Add the garlic and cook another minute.
Add the broth, paprika, chili powder, cocoa powder, brown sugar, cayenne, and tomatoes.  Bring to a simmer and then reduce the heat to low and cook for 20 minutes.
Add the beans and adjust spices as needed.  Cook for another 20-30 minutes, or until desired thickness is reached and the squash is fork-tender.
Serve with cornbread, tortilla chips, sour cream, avocado, cheese, cilantro, and lime wedges, if desired.
Mac & Cheese
This macaroni and cheese is so much healthier than the traditional comfort food—but you still get that creamy yummy goodness.  If you find you like a creamier base, add 1/4 cup of cashews soaked in hot water for an hour to the blender.  They'll provide a texture that more closely mimics mac and cheese.  However, this recipe is delicious as is, and if you roast the butternut squash in advance, it is ready to serve in no time.
Ingredients
1 butternut squash, roasted & peeled
16 oz. pasta
1/2 onion, diced
4 cloves garlic, minced
1 Tablespoon lemon juice
1 teaspoon salt
2 teaspoons dijon mustard
1/8 teaspoon turmeric
1/4 teaspoon smoked paprika
1/8 teaspoon nutmeg
1/8 teaspoon onion powder
1-2 Tablespoons nutritional yeast
1 teaspoon fresh sage
1 cup vegetable broth
pepper, to taste
Directions
Make the pasta according to directions.
Heat oil in a large skillet over medium-high heat.  Add the onion and cook for about 5 minutes.
Add the garlic and cook another 1-2 minutes.
Place the flesh of the squash in a high-speed blender or food processor.  Add the cooked onion, garlic, lemon juice, salt, mustard, turmeric, paprika, nutmeg, onion powder, nutritional yeast, sage, and broth and puree until smooth.
Pour over cooked pasta and add salt and pepper to taste.  Mix.  Serve with parmesan cheese or nutritional yeast if desired.
Skillet Hash
This meal comes together incredibly quickly.  If your butternut squash is already cubed, it's even easier to get this on the table in 30 minutes.  The leftovers aren't the best, but they're edible—and it's super easy to scale this recipe to make just what you'll eat in one meal.
Ingredients
1 Tablespoon olive oil
1 onion, diced
1 bell pepper, diced
1 jalapeno, diced
4 cloves garlic, minced
3 cups cubed butternut squash
1 teaspoon chili powder
1-15 oz. can black beans, drained & rinsed
15 oz. enchilada sauce
1/2 cup shredded cheese (optional)
salt & pepper, to taste
Directions
Heat oil over medium-high heat in large ovenproof skillet until shimmering.  Add the onion, bell pepper, and jalapeno and cook a few minutes.  Add the garlic, butternut squash, and chili powder.  Season with salt and pepper and cook until the squash is slightly tender, but not mushy, about 10 minutes.
Add the black beans and enchilada sauce and stir, reducing heat to low and making sure it's warmed through.  If using cheese, mix through and/or sprinkle on top and put under the broiler for a few minutes before serving.  Garnish with cheese, cilantro, avocado, and sour cream, if desired.
Quiche
Some may call it a breakfast food, but I think quiche is the perfect lunch meal.  Heat it or don't, eat it alongside a soup or salad or don't…you can make it your own.  If you put this quiche together Sunday you'll have lunches for the next couple of days.  The protein from the eggs will keep you full, and the sweetness of the butternut squash will make it feel like a midday treat.
Ingredients
1 pie crust
1 pound butternut squash, cubed & roasted
1 Tablespoon olive oil
1 onion, diced
2 cloves garlic, minced
2 cups spinach (or kale—just sautee it longer)
4 eggs
1 cup milk of choice
1 teaspoon dried basil
1/4 teaspoon cayenne (optional)
pinch of nutmeg
3 oz. cheese (optional)
salt & pepper, to taste
Directions
Partially precook your pie crust according to the directions if needed.
Preheat the oven to 375F.
Heat the olive oil in a skillet over medium-high heat.
Add the onion and cook for about 5 minutes.
Add the garlic and cook another minute.
Add the spinach and stir until wilted.
Remove from heat and stir in the roasted butternut squash.
In a bowl, whisk together the eggs and the milk.
Add the basil, cayenne, nutmeg, and salt and pepper to taste.
Stir in the cheese, if using.
Pour the butternut squash mixture into the pie crust.
Pour the egg mixture over it.
Bake until a toothpick comes out clean, about 35-45 minutes.
Not a fan of these recipes?  Try these butternut squash-friendly recipes instead!
Sweet & Sour Butternut Squash Orzo