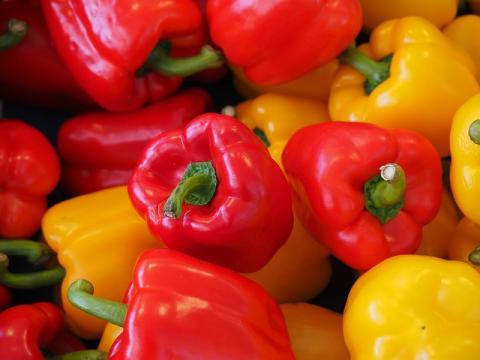 I like my food with a little heat and a twist of citrus. If you do, too, then you will love this recipe.
These spicy fajitas are the perfect combination of spices, peppers, and fresh lime. And the tortillas –  you can't forget the tortillas!
Living in San Diego, I was blessed with the finest handmade tortillas around. When I took off east and settled down, it was a different story. While there was some great food, it was hard to find great tortillas. I long missed the days when I could get a fresh, warm flour tortilla from the lovely ladies in Old Town. I get hungry just thinking of it.
If you don't like your food too spicy, I recommend using a bell pepper instead of the poblano, and leaving out the cayenne. I absolutely adore both, but I understand not everyone likes the heat. This recipe is perfect for two, with a little extra for seconds.
Ingredients:
2 red bell peppers
1 small yellow onion
1 poblano pepper
1 lime
1 tsp cumin
½ tsp paprika
¼ tsp cayenne
½ tsp garlic powder
¼ tsp onion powder
½ tsp sea salt
1/8 tsp black pepper
2 tbsp olive oil
Fresh cilantro (topping, optional)
Monterey Jack cheese (topping, optional)
Tortillas
Directions:
Slice bell peppers and poblano peppers into strips, removing any stems and seeds. Chop onion. Place in a bowl and add spices. Toss bell peppers, poblano, and onion to coat.
Heat a skillet on medium heat with olive oil. Add veggie mixture and cook for 8-10 minutes, or until peppers are tender.
Heat cast iron griddle on high heat. Warm tortillas for about 30 seconds, flipping halfway.
Divide vegetables and tortilla amongst two plates. Serve with fresh cilantro, cheese, and lime slice. And don't forget the tortillas!