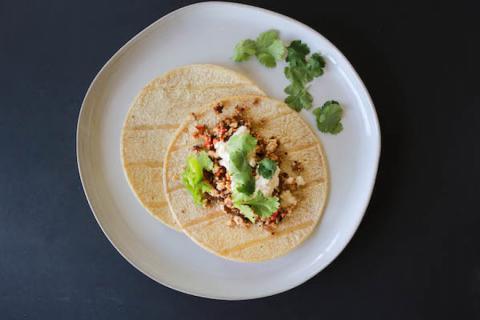 Looking for a delicious way to embrace spring? Tofu tacos are an easy way to get some plant-based protein. And since this protein is accompanied by lots of veggies, these tacos have extra doses of plant power to offer you. On a busy day, you'll appreciate this recipe because it's quick; and when you have more time you'll love it because you can deck these tacos out with all kinds of festive accompaniments, like cashew crema and fresh pico de gallo. In other words, this recipe is like a cherished friend who you can call on in all kinds of situations.
Spring: In The Garden & In Your Body
Nature doesn't mind the Gregorian calendar: Spring is her New Year. After a time of cold and darkness, the earth gradually awakens with a fecundity that draws us out of a period of withdraw and introspection, into a time of growth and renewal. Our bodies begin to need less of the heavier, grounding foods that nourished us through the preceding cold months. In their place, nature offers us a bounty of roots, sprouts, bitter greens, and other vegetables to choose from now: turnips, celery, dandelion greens, Swiss chard, bell peppers, onions, and so many others.
Some produce does carry over from the previous season, and what's available in your particular area may vary, but most of us in the Northern hemisphere collectively experience a new freshness in our food. As the earth changes around you and your body adjusts, say yes to leaner protein sources and more vegetables that are lightly cooked, or raw.
A Few Thoughts On Tofu
Tofu is considered a lean protein, but it can be challenging for some people to digest. As always, I suggest choosing the best organic food possible, and listening to your body when you eat it. If tofu doesn't seem to agree with you, try having it midday, or during the cold season—times when your digestion might be stronger. In Ayurveda, tofu is considered heavy, but believed not to aggravate winter health concerns, unlike most other legumes.
Tofu Tacos: Meatless Monday & Beyond
Consider these tofu tacos two ways: the quick version, and the dressed up version. With the weather getting warmer, we want to get outside, right? This might mean we want to spend less time in the kitchen. In that case, make the tacos on their own, and serve them with slices of avocado and jalapeno. Do you have a little more time? Or are you having a plant-based party? Then add the cashew crema and pico de gallo listed below to the tacos. Or, include dressed-up tofu tacos in your weekend meal prep. Who says you can't party on a (Meatless) Monday?
Spicy Tofu Tacos With Cashew Crema & Pico De Gallo
(Vegan, Gluten-Free)
Serves: 4
Listed in Order: Cashew Crema / Tacos / Pico de Gallo
Prep Time: 25 minutes/ 5 minutes/ 5 minutes
Cook Time: 0 minutes /40 minutes / 0 minutes
Total Time: 25 minutes / 45 minutes / 5 minutes
Ingredients 
For the cashew crema (recipe from Gaz Oakley):
1/2 cup raw cashews
1/2 cup filtered water
2 Tablespoons lemon juice
sea or Himalayan salt and freshly ground pepper, to taste
For the tacos:
2 Tablespoons extra-virgin olive oil
1 small red onion, chopped
1 clove garlic, chopped
1/2 teaspoons sea or pink Himalayan salt
1/2 teaspoon freshly-milled black pepper
1- 14 ounce block extra-firm tofu
1/2 teaspoon ground coriander
1/2 teaspoon ground cumin
1/2 teaspoon chili powder
1 small red bell pepper or 4 sweet petite peppers, finely chopped
eight 6-inch corn tortillas
For plating:
fresh chopped cilantro
2 jalapeno peppers, sliced
2 avocados, sliced 
For the pico de gallo:
1/2 pound ripe tomatoes, chopped
1/4 white onion, chopped
1/2 jalapeno or Serrano chile, finely chopped
1/4 cup fresh chopped cilantro leaves
1 Tablespoon fresh lime juice
1/2 teaspoon sea or pink Himalayan salt 
Directions 
Make the cashew crema: Soak the cashews for a minimum of 20 minutes, or overnight. After they're done soaking, drain and rinse them. Place the cashews, fresh water, lemon juice, and salt and pepper in a high-speed blender or food processor and pulse until smooth.
Make the pico de gallo: place all the ingredients in a bowl and toss well. Set aside.
Heat the olive oil in a large skillet over medium-high heat. Add the red onion, garlic, salt, and pepper, and cook until soft, around 5 minutes.
Add the tofu to the pan, crumbling it with your hands. Cook for 20-30 minutes, until slightly crispy.
Add the coriander, cumin, and chili powder to the pan, along with the bell pepper (or sweet petite peppers, if using), stir, and cook for 5 minutes more. Remove from the flame and set aside.
Have a cloth-lined basket or pan on hand. Place the tortillas in a large skillet or griddle (without oil) over medium heat and warm for a few minutes on each side, until soft. After each tortilla is warm, transfer it to cloth lined basket and cover to keep warm.
Fill each tortilla with a little of the tofu scramble, adding a squeeze of lime, followed by a dollop of cashew crema to each. Top with fresh chopped cilantro. Serve with pico de gallo, and slices of jalapeno and avocado on the side. 
Additional Cooking Notes
The cashew crema and pico de gallo can be stored in the refrigerator for up to 4 days and 12 hours, respectively.
If you'd like more greenery in your tofu tacos, add 1 cup of Swiss chard when you add the bell pepper in step 3.
Photos by Shiraz Leyva