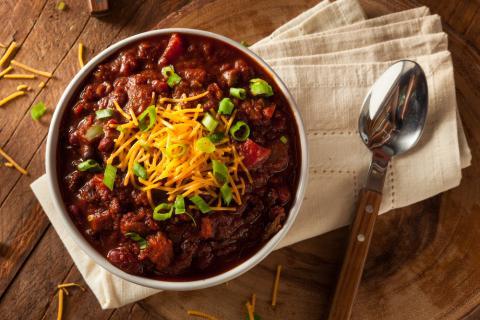 Who doesn't love chili? On a cold winter's eve, there is nothing more quintessential, filling the house full of rich aromas and setting the stage for a hearty meal. Every family has their own recipe passed down generation after generation, but why not try a new rendition of an old favorite? Maybe it will become the new staple. Super easy and quick to prepare, this homemade comfort food is perfect for the busy family on-the-go.
Hearty Vegetarian Chili
Ingredients
2 Tablespoons olive oil
2 cloves garlic, crushed
1/2 large white onion, chopped
3 carrots, peeled & sliced
1 yellow bell pepper, diced
1 green bell pepper, diced
3 stalks celery, sliced
1 large sweet potato, peeled & cubed
1 zucchini, cubed
2-15 oz. cans tomato puree
2-15 oz. cans diced tomatoes
4 cups vegetable stock
1 teaspoon pink Himalayan sea salt
1/2 teaspoon cracked black pepper
2 teaspoons dried oregano
1-1/2 Tablespoons ground cumin
1-1/2 Tablespoons chili powder
1 teaspoon Mexican chili powder
Directions
In a large sauce pan over medium-high heat, drizzle olive oil. Add garlic, onions, carrots, bell pepper, celery, and sweet potato. Sauté for 10 minutes, stirring occasionally as to not let the vegetables stick to the bottom of the pan.
Stir in zucchini, tomato puree, diced tomatoes, vegetable stock, and seasoning.
Cover and bring to a simmer for 30-40 minutes. Check vegetables for tenderness.
Serve with shredded cheese or sour cream and chives.