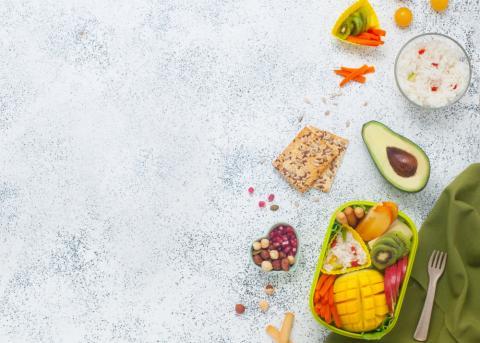 It is hard balancing an active lifestyle with a full-time job, school, kids' activities, and everyday errands and still provide your family with healthy food options to promote their growth and development. With a little prep work and the right equipment, these ten quick, nutritious, plant-based snacks will provide sustainable energy to keep every member of your family fit and healthy.
Why is it better to make snacks at home rather than buying a prepackaged granola bar or lunch box? You may have guessed it, but the most important advantage of creating your snacks at home is that you know exactly what ingredients go into the food and essentially into the bodies of your loved ones. With obesity and heart disease on the rise, it is vital that we take a more mindful approach to our diets and that starts with minimizing our carbon footprint of buying processed, pre-packaged products that are overladen with preservatives, unhealthy fats and sugar.
Whether you're faced with the grind of the everyday routine or out on-the-road on a family vacation, these go-to snack ideas are sure to please the masses.
Celery Sticks with Almond Butter & Goji Berries
An alternative to a traditional favorite. Rather than going with the traditional peanut butter that is not as healthy as once believed, why not use almond butter and jazz it up with goji berries, beautiful sweet gems that are more nutritional than raisins.
Hummus & Broccoli Spears
Traditional is always delicious, but you can get really creative with hummus, individualizing a different flavor for every week or every member of the family if you are ambitious. From roasted beets to kalamata olive, the ingredient options are limitless.
Hummus Recipe
2 cloves roasted garlic
1 (19 ounce) can garbanzo beans (chickpeas); retain the liquid separately
2 Tablespoons lemon juice
2 Tablespoons tahini
2-4 Tablespoons olive oil
pinch or two of cumin powder
sea salt & black pepper, to taste
In a blender or food processor (or using an immersion blender), puree the roasted garlic, garbanzo beans, lemon juice, tahini, and olive oil. Slowly add the garbanzo bean liquid (aquafaba) until the desired consistency is met. Season to taste with cumin, salt, and pepper. Garnish with a light drizzle of olive oil and a dusting of smoked Spanish paprika, if desired.
Guacamole with Carrots
How do you like yours, a bit spicy or packed with a handful of cilantro? Take the base recipe and customize it to fit your family's taste buds. Use carrot sticks or strips of bell pepper as dippers for a guilt-free option rather than the store-bought tortilla chips.
Guacamole Recipe 
4 Haas avocados
1/2 medium onion, minced
3 vine-ripened tomatoes, deseeded and diced
2 cloves garlic, minced
2 limes, juiced
1/2 cup cilantro, roughly chopped
1-3 Tablespoons green chili hot sauce
salt & pepper, to taste
In a medium bowl place all the ingredients, avocado, onion, tomato, garlic, lime, and cilantro, mixed until combined. Add hot sauce, salt, and pepper to taste. Serve chilled.
Eggplant Chips with Manchego Cheese
The seasoning used on these slices of roasted eggplant is a phenomenal blend and deserves a spot in your spice cabinet. Married with a thinly sliced, good quality aged Manchego or farmhouse cheddar, these roasted "chips" make a tantalizing snack or party appetizer your guests will find irresistible!
Mediterranean Seasoning Blend
1 Tablespoon sea salt
1 Tablespoon smoked sea salt
1 Tablespoon fennel seed
1 teaspoon cracked peppercorns
1 teaspoon Mediterranean oregano
1 teaspoon ground white pepper
1/2 teaspoon yellow curry powder
1/2 Tablespoon juniper berries
1/2 teaspoon dried thyme
1/4 teaspoon yellow mustard powder
1/4 teaspoon smoked Spanish paprika
Place all the ingredients in a spice mill or coffee grinder. Pulse until a powder is formed. Sprinkle over top vegetables before roasting on meats or in marinades.
Roast Eggplant with Manchego
1-2 eggplants, sliced
olive oil
Mediterranean seasoning spice blend
aged Manchego or farmhouse cheddar
Heat oven to 420⁰F. Slice eggplant 1/4-inch thick and place on a sheet tray covered in parchment paper. Drizzle olive oil over the eggplant and sprinkle with seasoning spice blend. Go heavy or light based upon your palate. Roast until soft and browning. Cover each "chip" with an aged Manchego cheese and melt in the oven until slightly bubbly.
Tomato, Basil & Mozzarella Skewers
The vibrant array of color is not the only thing about this snack that is enticing, but the fresh aroma of basil and organic cherry tomatoes lures you in like the scent of fresh baked bread. Pack these little toothpick bites into your child's snack pack and feel good that they are getting a good balance of macronutrients in every bite.
Tzatziki with Fresh Pita Bread or Vegetable Crudite
Simple, right? Yogurt, garlic, cucumber, lemon, and dill. Eat it as a dip or a condiment for a falafel or a dip for a veggie spring roll. I promise, it won't last long!
Tzatziki Recipe
3/4 English cucumber, thinly sliced and quartered, pat dry on paper towel
1 teaspoon Himalayan sea salt, divided
1/2 medium head roasted garlic, about 5 garlic cloves, peeled
1/2 teaspoon white wine vinegar
juice from half a lemon
1 Tablespoon olive oil
2-3 cups Greek yogurt
large bunch of fresh dill, roughly chopped
1/4 teaspoon ground white pepper
Wash cucumber and slice it thin. Quarter it and sprinkle with a half teaspoon sea salt and set aside on a stack of paper towels and pat dry before incorporating them into the yogurt mixture.
To make the yogurt mixture: In a mixing bowl, using the back of a spoon, smash the roasted garlic into a paste. Add the remaining sea salt, white wine vinegar, lemon juice, and olive oil. Stir in the Greek yogurt. Fold in the cucumber, dill, and white pepper. Garnish with a sprig of dill and a round of lemon. Serve with veggies, warm pita or multigrain crackers.
Tea Sandwiches
Find a dark, seedy bread and smear a thin layer of roasted garlic aioli over top; proceed to arrange a leaf of Bibb lettuce, cucumber, sliced vine-ripened tomato and a crack of black pepper on the sandwich. Cut the tea sandwiches into small, easy to handle triangles.
Roasted Garlic Aioli Recipe
whole bulb roasted garlic, cloves removed
1/2-1 teaspoon sea salt, to taste
3 large egg yolks
1/2 teaspoon Dijon mustard
1/4 teaspoon smoked paprika
3/4 cup olive oil
1 teaspoon fresh lemon juice
Using an immersion blender or food processor, blend garlic cloves, salt, egg yolks, and mustard until combined, about 10-15 seconds. While the machine continues to run, slowly pour in 1/4 cup oil as a steady drizzle; blend until mixture is slightly thickened, about 10 seconds. Continue to pour in remaining 1/2 cup oil in a slow, steady stream while machine runs; process until aioli is thick. Stir in smoked paprika and lemon juice. Taste before serving.
Whole Wheat Roasted Vegetable Wraps
Work smarter, not harder. Utilize the same roasted garlic aioli recipe above on these hearty wraps. Sometimes you feel more peckish than others. Why not eat a wrap to hold you over until the next meal? With an array of roasted vegetables, this nutrient packed snack is filling but not heavy.
Rice Crackers with Sunflower Butter & Sliced Apples
Remember Nutter Butter candy bars? Well, these are the healthy alternate. If you are looking for something sweet but don't want to indulge in chocolate or a sugary yogurt, these open-faced sandwiches satisfy the sweet tooth swimmingly.
Chia Pudding with Fresh Berries & Homemade Granola
Versatile and packed full of protein, chia pudding can be made ahead of time and can be substituted for yogurt in parfaits, smoothies, or as a nutritious dessert. Play it up with fresh berries or your favorite fruit puree and top it with a crunchy granola for additional mouthfeel.
Chia Pudding Recipe
1/3 cup chia seeds
1-1/2 cup nut milk (almond or hazelnut is yummy)
1/4 teaspoon ground cardamom
1/4 teaspoon ground ginger
1 teaspoon cinnamon
1 teaspoon honey
In a small mixing bowl, whisk together all the ingredients and refrigerate for four hours or overnight. Serve with Greek yogurt, ground pistachios, chopped walnuts, homemade granola and/or a variety of fresh or dried berries.
Homemade Granola Recipe
2 cups old fashioned rolled oats
1 cup nuts, chopped (pecans, cashews, walnuts, almonds, pistachios, or any combination)
1/4 cup seeds (pumpkin, sunflower, chia, flax, or sesame)
dried fruit (raisins, cranberries, goji berries, blueberries, coconut shreds, apple slices, pineapple, mango), to taste
light drizzle of sweetener (maple syrup, agave, dark honey)
light drizzle fat (olive oil or coconut oil)
2 teaspoons cinnamon
1/2 teaspoon dried ginger
1 teaspoon nutmeg
1/2 teaspoon clove
1/2 teaspoon cardamom
pinch sea salt & black pepper
Preheat oven to 375⁰F. Cover a baking sheet with parchment paper. In a mixing bowl, combine oats with nuts, seeds, dried fruit, and seasoning. Drizzle the liquids over the oat mixture and toss to evenly coat. Bake in the oven, stirring every 15 minutes until the granola is toasted and dry. Allow to cool and store in an airtight container.