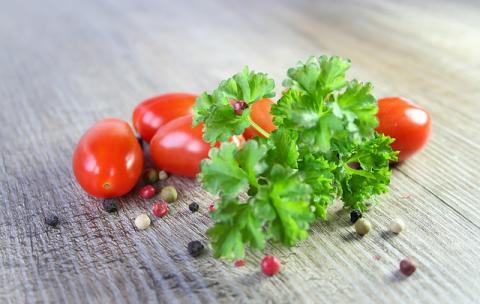 This has developed into one of my favorite summertime recipes for pasta salad! The pesto blends beautifully with the fresh heirlooms, basil, avocado and bell peppers and the colors complement each other quite nicely. Double the recipe for the perfect potluck contribution!
What You Need
1 box of your choice of gluten-free pasta (quinoa blend suggested)
1 large heirloom tomato
2 tbsp of pesto
1 avocado
1 portabella mushroom (chopped)
½ cup fresh basil (chopped)
1 cup yellow bell peppers (chopped)
¼ cup toasted pine nuts (optional)
Cooking Supplies
Cooking oil of choice (olive suggested)
Salt
Pepper
Balsamic, red wine or apple cider vinegar
Colander
1 large pot
1 medium-sized pan
1 small mixing bowl
To Start
Fill large pot ½ full of water and set on high until boiling.
While you wait for the water to boil, dice up your tomato and place in small mixing bowl. Add in salt, pepper, and ½ tbsp of vinegar of choice. Stir around and let sit.
With medium-sized pan, turn on medium heat with 1 tbsp of olive oil and let sit for a minute or so until hot. Add in chopped up mushroom, then stir and cover for 2 minutes. Add in less than a capful of vinegar into pan with olive oil and mushroom. Cover again to steam.
When water is boiling, add in pasta. Gluten free pasta generally cooks in 6-10 minutes, but make sure you follow directions for cook time specific to the brand you choose. Without the gluten, pasta gets soft much quicker so it is suggested that less time is needed for cooking than regular pasta.
Take the lid off of your pan (with mushrooms inside) and add in chopped up yellow bell peppers. Add seasonings of choice with salt and pepper and cook for 3-5 minutes and remove from heat.
Once pasta is cooked, empty colander to drain and then place back in empty pot, keeping off the stove. Add in 2 tbsp of pesto, cooked mushrooms and bell peppers.
First serving can be eaten hot if desired and then cooled and stored for pasta salad the next day. Once cooled, add in heirloom tomatoes that have been marinating and top with avocado, fresh basil and pine nuts if desired.
Enjoy!