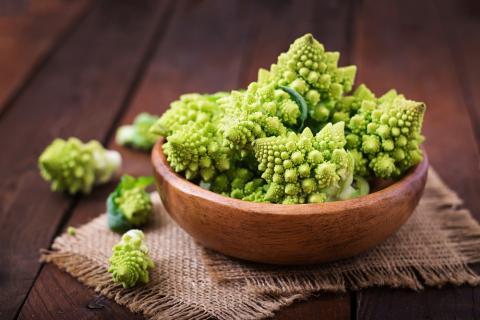 Sure, winter produce doesn't look quite as pristine as summer peaches, berries, and corn, but vegetables like kohlrabi, broccoli rabe, and even horseradish are powerful foods with plenty of flavor and lots of nutrition. Many people, myself included, are often eager to pick up bright orange persimmons or glossy blue black futsu squash at the farmer's market, only to find it limp or moldy three weeks later due to simply not knowing what to do with it. Here are the best of winter's produce and, most importantly, how to incorporate these fruits and veggies into tasty, nutritious meals from December through March. 
Watermelon Radish 
I eat watermelon radishes all year long, but this surprisingly pink-fleshed variety is sweetest in the winter. Additionally, it boasts similar nutrients to radishes, so expect folate, fiber, phosphorous, potassium, and even calcium. While it's easily incorporated into winter salads—try it with maché, sliced persimmons, and a drizzle of balsamic vinegar—it can be roasted (drizzle with oil and sprinkle with salt); quick-pickled; added to soups, pizza, and toast; or even steamed. 
Black Futsu Squash
This squash can't be mentioned without an explanation, especially since it looks more like a Halloween-inspired gourd than a culinary treat. This heirloom variety is a Japanese squash, recognized for its incredible bumpy skin and green to blue to orange-colored flesh. Similar to kabocha-based recipes, black futsu squash works well roasted, sliced thin and left raw (like carpaccio), added to salads cold or hot, and cooked into curries. 
Chicories
Chicories include a variety of salad-ready greens, including radicchio, Belgian endive, frisée, and escarole. These nutritious vegetables are high in vitamins C and E, folate, riboflavin, and even potassium. While chicories are often thought of as bitter, winter varieties tend to taste sweeter. It's easy to incorporate chicories into fresh winter salads—add sliced blood oranges, walnuts, and a drizzle of balsamic vinegar—but cooking them can provide a warmer, more comforting dish. Slice radicchio in halves, then drizzle with olive oil and grill; braise Belgian endive or use raw as a scoop for hummus or guacamole; or sauté chicory and finish with sherry vinegar. 
Persimmons
Persimmons are my favorite fruit, so I'm especially excited when leaves begin to fall off trees and icy mornings are the norm. Persimmons, depending on the variety, have a mild, sweet taste, similar to pears; however, taste differs based on the variety. Two of the most common varieties of persimmons, hachiya and fuyu, are eaten differently and the level of ripeness can make a big difference between puckered lips and a satisfied stomach. Hachiya are best eaten when nearly mushy. Otherwise,  they can taste very astringent. The squat fuyu, however, are best enjoyed ripe, similar to a pear. Along with their delicious taste, persimmons are high in vitamin A and manganese. Additionally, the orange fruit is high in antioxidants. Munch on them raw, or thinly slice and add to salads. Another way to serve persimmons is broiled with cheese (try goat cheese and a drizzle of honey), sautéed alongside a sweet dessert, or made into a simple jam. 
Celeriac
Celeriac is celery's ugly brother, but, in my opinion, with a much milder taste perfect for the soups and stews of winter. Packed with nutritional benefits like vitamin C, the hard-to-get vitamin K, and potassium, celeriac is best enjoyed steamed, baked, mashed, sliced, or roasted and works well in a wider variety of dishes. Try thinly slicing celeriac and drizzling with olive oil, then roasting until crisp like chips. Or, ditch the roasted potatoes and try roasted celeriac, adding a bit of flat leaf parsley and lemon juice to brighten the dish. Finally, there's a reason many choose to use celeriac in soup—its nutty flavor lends well to chicken or vegetable stock, while it similar texture to potatoes helps to thicken the soup. 
Romanesco
Think of romanesco as a fancy cousin of cauliflower, but a sibling of broccoli. While I find that the taste is most similar to cauliflower, romanesco is a green, spiky vegetable that is filled with fiber, iron, vitamin K, and even omega-3 fatty acids. To best showcase the beautiful florets, quickly steam or roast the vegetable whole or cut into smaller florets. Even better, try blanching the florets then shocking in ice cold water; serve with hummus or a chickpea spread. Romanesco tends to work well with parmesan. For this reason, it pairs with pasta dishes as this article explains. 
Fava Beans
Fava beans are a legume, not a vegetable, but you're most likely to find them in their freshest form—in long green pods—during the winter and spring season. Legumes aren't typically associated with winter, but fava beans are particularly hardy, able to withstand temperatures up to 14°F. Also known as broad beans, fava beans are packed with protein, along with vitamin K, vitamin B6, potassium, copper, zinc, and even magnesium. While fava beans can be enjoyed in pasta dishes, my favorite way of preparing these mild green beans is to blanch then mix into a roasted garlic-based dip. I'm eager to try a few other recipes, however, that include grilling the beans whole, pureeing them into a soup, and pairing with the best of winter produce.