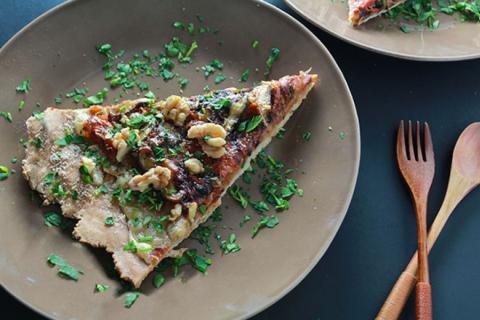 Can I convince you that there's a best time for pizza, and that it happens to be right now? When it's cold, we naturally crave heavier foods that provide fat and protein which our bodies transform into insulation. And while many people feel the need to resist food cravings, I'd say that listening to your body, giving it the best version of what it's asking for, and enjoying every bite is a great approach to health. Another good reason to make a pizza with a homemade crust is that wheat, and spelt (a subspecies), are traditionally harvested in fall for winter eating; and let's not forget about the link between seasonal eating and a healthy microbiome. With all this in mind, let's get to today's Meatless Monday recipe: mushroom pizza with fontina, radicchio, and walnuts on a spelt crust.
What Is Meatless Monday?
Today's mushroom pizza is the second recipe in our ongoing seasonal Meatless Monday series. I've written about Meatless Monday in a previous post, but in a nutshell: Meatless Monday is a non-dogmatic, non-political global movement that encourages people to eat more plants for their health and the planet's.
How To Make Mushroom Pizza
One of the things I love about cooking is that it's so easy to dive in, and homemade pizza is no exception. It's hard to make an inedible pizza. That said, you'll get better results with practice, which is all the more reason to get cooking. This mushroom pizza includes a spelt crust borrowed from the wonderful Sarah Britton. Spelt flour has a complex, nutty flavor and a light texture. It's also more nutritious and easier to tolerate than hybridized wheat flour. However, if you don't have spelt flour you can use pretty much any crust. Dive in, keep it easy, and you'll have a delicious, healthy meal in no time, and a great cooking experience, too.
Eating For Health
If eating heavier food in the winter sounds crazy, consider this: spring and summer are seasons of lighter foods. This means that if we follow a seasonal diet, we eat heavier foods in the fall and winter, and less caloric foods in the spring and summer. Eating in this way, many people find that their bodies—and their cravings—harmonize with the nature's cycles. Instead of gaining too much weight, they are able to leave weight obsessions behind over time. Choosing harmony over restriction, you just might discover a new love for food, as well as the body you inhabit as part of this amazing earth.
Mushroom Pizza With Fontina, Radicchio & Walnuts (Vegetarian)
Servings: Makes one 12-inch pizza (or 4 small pizzas)
Ingredients 
For the crust:
3-1/2 cups whole spelt flour, plus extra for dusting
1-1/2 Tablespoons dry active yeast
1 cup lukewarm water (plus more if needed)
3 Tablespoons ghee, butter, or coconut oil
For the pizza topping:
2 Tablespoons + 1 Tablespoon ghee or butter
6 ounces shitake mushrooms
sea or pink Himalayan salt, to taste
freshly ground black pepper, to taste
1 Tablespoon fresh thyme leaves
3 medium shallots, peeled & sliced thinly
1 cup strained tomatoes
1 cup radicchio
2 cups grated fontina cheese
1/2 cup coarsely chopped walnuts
1/4 cup grated Parmigiano-Reggiano cheese
Directions
Make the crust: sift the flour into a large mixing bowl and set aside. In a separate, small bowl, mix the yeast with 1 cup lukewarm water. After the yeast has dissolved, add the mixture to the flour, along with the oil, and stir until you have a uniform texture. The dough should be moist but not wet. Remove the dough to a large, lightly floured surface and knead by hand for about 5 minutes. Place the dough in a large bowl and cover with a damp towel. Leave it to rise for 1-2 hours, until it doubles in size.
Preheat the oven to 350 degrees Fahrenheit. Heat 2 tablespoons of ghee or butter in a large skillet over medium heat. When the pan is hot, add the mushrooms and thyme. Sprinkle with salt and pepper and cook until browned, around 5 minutes. Remove from the pan and set aside.
Heat the remaining 1 tablespoon of ghee or butter in a skillet over medium heat. Add the shallots and a little salt and cook until caramelized, around 15 minutes.
Add the radicchio and cook for 2 more minutes more, until wilted, then add the tomato sauce and cook for an additional 2 minutes. Taste and adjust the seasoning.
Place the dough on a floured work surface. Stretch and roll it to form a 12 inch circle and sprinkle it with salt. Cover the dough with half of the grated fontina, then spoon the tomato mixture on top, followed by the mushrooms, walnuts, and the remaining fontina. Top with Parmesan and bake until the crust is golden, around 15 minutes.
Additional Cooking Notes
I use strained tomatoes in this recipe, mostly because they come in a glass jar, but you could also use canned tomatoes.
Any leftover pizza dough can be stored in the refrigerator, tightly covered, for up to 2 days.
I used a pizza stone to make this pizza. I highly recommend a stone because it creates a nice crust but you could also use a baking sheet if you're in a pinch.
I like some green on my plate, so I added chopped Italian parsley to this mushroom pizza when plating (see first picture above), but it's totally optional. 
Photos by Shiraz Leyva