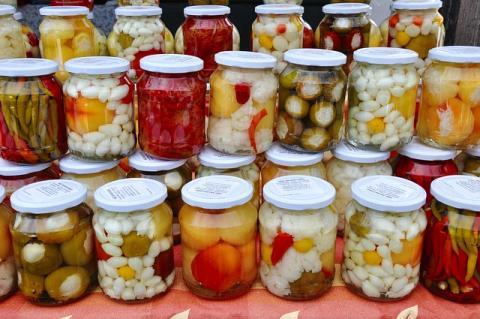 Gardens are in full bloom this time of year, so what better way to celebrate your bounty of cucumbers (or plethora of other veggies, for that matter) than by throwing them in a brine and quick pickling them?
Pickles make the perfect snack and add a savory crunch to just about everything from salads to burgers to sandwiches to a Saturday-morning Bloody Mary. Artisanal pickles these days can come at a hefty price, too, with some jars selling for up to $12 a pop. While pickling on your own may sound intimidating, here's a sure-fire way to make delicious pickles that you can eat in no time. The quick-pickle method doesn't even require the typical canning and jarring equipment because these pickles will go straight in your fridge and are ready-to-eat almost immediately (depending on your texture and flavor preference). All you need is ingredients for the brine and jars (with lids) to store the pickles.
Note: If you plan on pickling several vegetables, I suggest storing each veggie in separate pickling jars, as they all pickle at different rates. You can also double or triple the recipe, based on how many pickled vegetables you want to make.
Dill Pickles
2 pounds kirby cucumbers, quartered
10 sprigs fresh dill
2 cups apple cider vinegar
2 cups water
1/4 cup sugar
1/4 cup salt
2 tablespoons mustard seed
2 tablespoons peppercorn
3 cloves cracked garlic (or more depending on your preference)
In a saucepan, heat the vinegar, sugar and salt, stirring until everything's dissolved and clear. Add the mustard seed, peppercorn and cold water, and set aside to cool.
Start filling one of the jars with the cucumbers, a clove of garlic (or two depending on your preference) and at least one or two sprigs of fresh dill. Feel free to play around with the recipe to find your ideal flavor preference.
Pour the cooled brine over the vegetables and close the lid. Chill the jars in the fridge overnight, and then they should be ready to eat.
When you're done eating the pickles, keep the brine and use it for future pickling recipes. Remember that these pickles need to be refrigerated and are not safe for storing in the pantry with your other canned goods (as they're not airtight).