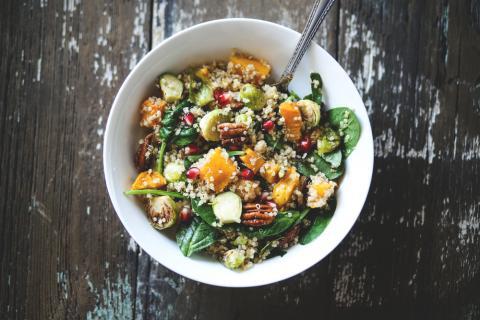 Across the U.S., fall is here with the reddening of leaves, the number of pumpkin patches opening in October, and the crispness of the air, but fall is also ubiquitous in grocery stores and farmers markets. It's harvest time for autumnal favorites like squash, Brussels sprouts, and pomegranates. While it might be appealing to reach for heartier stews and comfort dishes as the weather cools, take advantage of the fresh produce still available with a fall-inspired salad. Not sure how to construct one? Looking to get creative? Follow these steps to make your own Harvest Salad—complete with your preferred additions.
Base: Leafy Greens
Greens can be grown in most areas across the United States in three seasons—spring, summer, and fall—but September, October, and even November are great times to take advantage of darker, more bitter greens. Kale is a great choice and is hardy enough to grow through a light frost, while arugula offers a nice bite to offset sweeter fall additions, like pumpkin or figs. Other green varieties to try include radicchio, Napa Chinese cabbage, and even Miner's lettuce, which can be found wild-grown in Southern California. 
Bulk: Starchy Vegetables
Starchy vegetables typically contain higher amounts of fiber and carbohydrates, making them a great choice for those looking to stay full and satisfied. The most obvious starchy vegetables include sweet potatoes, potatoes, yams, and squash, but it's the lattermost choice that is best highlighted in the fall. Look for a wide variety of winter squashes, like butternut, acorn, delicata, spaghetti, sweet dumpling, and my personal favorite, kabocha. Try cubing and roasting the squash, then cooling before adding it to a cold salad. 
Middle: Non-starchy vegetables or fruit
Non-starchy vegetables include everything from cucumber to okra, but it's up to you to decide what you prefer in your salad. Cucumber and tomatoes can pair well in a summer salad, but look for late harvest vegetables like Brussels sprouts or cauliflower that work with the season. Try roasting turnips, radishes, and broccoli, and then adding them to a warm fall salad for comfort in a bowl. For a tasty, but surprising, twist, try adding late summer and early fall fruits like figs and pomegranates. Fruit not only adds flavor but color to the salad, too.
Top: Nuts and seeds
I often design my salads around my favorite salad topper—at the moment, hazelnuts—to make a dish that pairs well. There are a variety of options, and there are no rules to how many you can combine. Try pecans, walnuts, almonds, or macadamia nuts, or add flaxseeds or chia seeds to add fiber and fat, respectively. A sprinkle of hemp seeds or bee pollen can also boost the flavor profile. Try roasting or gently sautéing with maple syrup or honey for a sweet treat.
Still not sure where to start? Here's my current favorite, but feel free to swap out your personal preferences to make a fall-inspired salad fit for you. (Or get further inspiration from this Panzanella Salad or this Hearty Winter Salad.)
Best of the Harvest Salad
Ingredients (serves 1)
2 cups arugula
1/2 pomegranate arils
1/2 cup roasted and cubed kabocha squash
1 oz. soft goat cheese (try the herbed or Provence variety, or omit for a vegan salad)
1/4 cup roasted hazelnuts
1 tablespoon extra virgin olive oil
1/2 tablespoon apple cider vinegar
1/2 tablespoon raw honey (sub agave or maple syrup for a vegan version)
salt & pepper, to taste
Directions
Make apple cider vinaigrette by combining 1 tablespoon extra virgin olive oil, 1/2 tablespoon apple cider vinegar, 1/2 tablespoon raw honey, and a sprinkle of salt and pepper. Mix well.
Combine remaining ingredients (arugula, pomegranate arils, squash, cheese, and hazelnuts) in a large mixing bowl. 
Add vinaigrette, gently toss, and serve chilled.