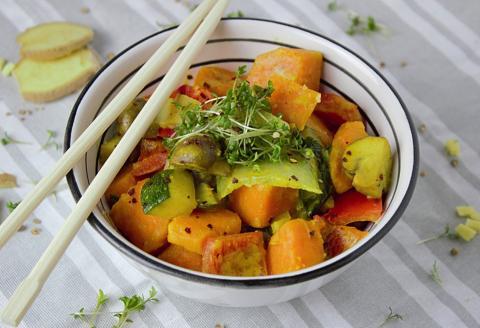 As a big fan of pineapple and chili, this is my absolute favorite curry recipe. But even if you are not a fan like I am, simply leave out the chili and pineapple to enjoy the rich veggies and flavorful curry sauce. The coconut milk blends deliciously with the curry for a creamy and complex-tasting dish that is easy to make. Enjoy!
Pineapple Curry (Vegan)
*Serves two.
Ingredients:
1 Tablespoon Vegetable Oil
1 medium Onion, chopped
½ cup of Pineapple, cut into small chunks
½ cup Green Beans
½ cup Bell Pepper
2 medium Potatoes, peeled and cut into small chunks
1 Tablespoon curry powder (yellow)
Chili Powder (to taste)
1 can of Coconut Milk (15 oz)
Directions:
-Over medium heat, put the oil in a large skillet and add the veggies (onion, pineapple, green beans, bell pepper and potatoes). Cook for about 2 minutes or until just softened.
-While the veggies are cooking, mix together the curry powder, coconut milk and chili powder in a separate bowl.
-Add the curry sauce to the skillet of veggies and continue to cook on low to medium heat for about 10 minutes.
-Allow the curry to cool and serve with rice.