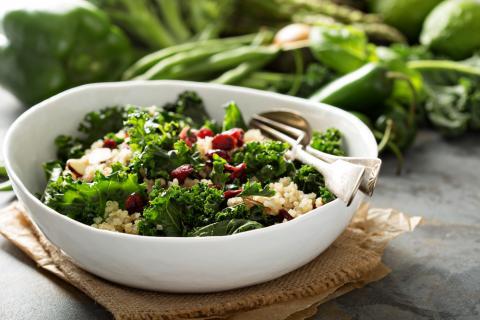 When winter rolls around, I like to mix up my salads with some delicious seasonal foods. Apples, turnips, cauliflower, and carrots are only a few seasonal foods that can really make your salad taste fantastic. Seasonal produce also tastes better, since it's at its peak, so your salads will be bursting with flavor. Here are three delicious salad recipes for winter. 
Kale Quinoa Salad with Honey Dijon Dressing 
Kale is such a hardy vegetable. It can grow in pretty frigid temperatures and that includes during winter. That's why I love getting some fresh from the farmers market and putting it right into my salad. This salad is very warming. It's perfect for a cold winter's day when you're still craving your leafy greens. 
Ingredients
5 to 6 stalks of kale, stems removed 
1 cup quinoa, cooked 
3 to 4 carrots, peeled & chopped 
1 cup cauliflower, cooked 
1 apple, chopped 
optional: sliced almonds & chia seeds, for toppings 
Ingredients for dressing 
1/3 cup olive oil 
3 Tablespoons honey 
3 Tablespoons apple cider vinegar 
1 Tablespoon dijon mustard 
pinch of salt 
Directions 
Cook the quinoa and cauliflower in separate pots over the stove. Make sure to wash the cauliflower first and cut it up into smaller chunks before doing so. Cook quinoa according to package instructions (or use these directions for perfectly fluffy quinoa).  
While your cauliflower and quinoa cook, peel and chop your carrots. I like to save the peelings and ends for zero waste vegetable broth (veggie broth made from food scraps), but you can also compost them right away. Also, make your honey dijon dressing now by combining all the ingredients together in a mason jar and giving it a good shake. 
Wash and remove the stems from the kale. Kale stems are often very hard and not always pleasant to eat in a salad. You can compost them right away or save them to use in a vegetable stir fry at a later time. Rip up the kale leaves and add them to a big bowl. Add your carrots (once peeled and chopped) to the same bowl as the kale. Wash and chop up an apple, adding it to the big bowl as well. 
Add the cooked quinoa to the bowl. Remove the cauliflower once it's easy and soft to fork and strain that as well. Add that to the big bowl once strained. 
Top with some sliced almonds and a sprinkle of chia seeds until your heart is content. Drizzle some of your homemade honey dijon dressing on top and gently mix. Serve immediately, or store in glassware for later. 
Root Vegetable Salad with Maple Orange Dressing  
This is a very earthy, warming dish I love to prepare when I prefer my salad more warm than cold. It's great to eat this salad right away after the root vegetables roast, but you can also save it for later and let everything cool, if that's what you prefer. The maple orange dressing is also super delicious and pairs very well with this salad, adding the perfect amount of tang and sweet. 
Ingredients
1 big turnip or 2 small turnips, peeled, chopped & cooked 
2 to 3 parsnips, peeled, chopped & cooked 
2 to 3 beets, peeled, chopped & cooked 
2 to 3 carrots, peeled, chopped & cooked 
2 to 3 baby potatoes, chopped & cooked 
4 to 5 stalks of kale, stems removed  
Ingredients for dressing
3 Tablespoons apple cider vinegar 
1/4 cup fresh orange juice 
3 Tablespoons maple syrup 
1 Tablespoon dijon mustard 
1/2 cup olive oil 
1/2 teaspoon salt 
Directions 
On a baking sheet, place peeled and chopped root vegetables (parsnips, beets, carrots, potatoes, turnips). Drizzle with olive oil and sprinkle salt, pepper, and garlic powder on them. Heat the oven to 250 degrees F and let them roast for thirty minutes to an hour, or until soft.  
While they're roasting, wash the kale and remove the leaves from the stems. Compost the stems or save them for a later recipe. Add the leaves to a big bowl. 
If you would like to use the maple orange balsamic glaze dressing for the salad then start preparing the maple orange dressing. Add all the ingredients for the dressing in a high speed blender and blend until smooth. Store in an airtight container—it'll last in the fridge for up to a week. 
Remove the root vegetables from the oven and transfer them into the big bowl with the kale. Add homemade maple orange dressing and toss the salad together, mixing well. Eat right away or save for later. 
Roasted Sweet Potato Salad with Honey Lemon Vinaigrette 
This recipe has not only roasted sweet potatoes, but candied pecans too! Candying pecans is really simple, and they really add something to this salad, especially if they're still a bit warm in the salad. They pair great with the kale, sweet potatoes, and cranberries! You can use whatever dressing you like on this, but I prefer honey lemon vinaigrette for this recipe myself. 
Ingredients 
5 to 6 stalks of kale, stems removed 
2 Tablespoons dried cranberries 
1/2 cup pecan halves 
2 Tablespoons sugar (for candied pecans) 
1/2 Tablespoon butter (for candied pecans) 
1 sweet potato, peeled & diced 
1 Tablespoon olive oil 
salt & pepper 
Ingredients for dressing
2 Tablespoons olive oil 
1 Tablespoon honey 
1 Tablespoon lemon juice 
1 teaspoon apple cider vinegar 
salt & pepper, to taste 
Directions
First, preheat the oven to 400 degrees F. Peel and dice the sweet potatoes into small cubes. Toss in olive oil and season with a pinch of salt and pepper.
Evenly lay the cubes on a baking sheet and roast in the oven for about 40 minutes, flipping the potatoes over when 20 minutes have passed.  
While the sweet potatoes are roasting, combine butter, pecan halves, and sugar in a medium sized skillet over medium high heat. Cook for 3 to 5 minutes, stirring frequently, until the sugar has melted and fully coated the nuts. Transfer the nuts to a large plate and set aside to cool for 5 minutes.  
While the pecans cool, combine olive oil, honey, lemon juice, apple cider vinegar, and salt and pepper to taste in a small mason jar. Shake it until it's well combined: You now have your honey lemon vinaigrette.  
While waiting for the sweet potatoes to finish roasting, remove kale from the stems and chop/rip up the leaves, placing them into a large bowl. When the sweet potatoes finish, add them, the candied pecans, cranberries and honey lemon vinaigrette to the bowl. Toss to combine, then serve and enjoy immediately, or save for later.