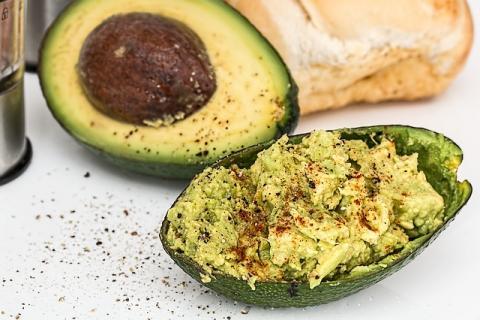 Summer is the time for avocados, and that's fortunate for you because they are considered to be one of the healthiest and most nutritious of foods!  Researchers say that people who consume avocado regularly usually gain great nutrient benefits, such as an increased intake of potassium, vitamin K, vitamin E, fiber, magnesium, and monounsaturated fat. Want to get some more avocado in your mouth? Here are five amazing – and easy -- avocado recipes.
1. Easy Avocado Banana Berry Smoothie
Ingredients:
1 ripe avocado pitted, peeled and cut in half
1 banana
½ cup mixed berries
1/4 cup yogurt (use vegan yogurt if desired)
1 tablespoon of honey
Directions:
Place all ingredients in a blender and blend until the desired texture is reached. Feel free to mix, match and try new fruits with this recipe. Avocados are great for smoothie experimentation; they create a creaminess that is perfect for this summertime treat. Simple, easy, and tasty!
2. Avocado Sauce for Pasta
Ingredients:
12 oz. pasta (whole wheat or gluten-free)
2 ripe avocados, pitted, peeled and scooped
1 lemon, juiced
2 cloves garlic
1/4 cup olive oil
1 handful fresh basil
1/4 tsp. sea salt, to taste
Directions:
Set a medium-sized pot of salted water to boil. Add pasta, reduce heat slightly and cook until al dente, 8-10 minutes. In a food processor, combine avocado flesh, lemon juice, garlic, olive oil, basil and salt. Blend until smooth and creamy. Set aside in a large bowl. Transfer cooked pasta to the bowl. Toss with avocado mixture. Serve with grated parmesan, if desired.
3. Avocado Ice Cream
Ingredients:
2 ripe avocados, pitted, peeled and scooped
1 /4 cup raw honey
1/ 4 cup full fat coconut milk or other milk
pinch of sea salt
squeeze of lime
Directions:
Smash avocado with a fork in a bowl until no lumps remain, or place in blender and blend until smooth. Add honey to smashed avocado, and mix thoroughly with spoon. Put mixture in blender. Add coconut (or other) milk to the mix. Blend on medium until you get a nice, smooth consistency. Take out and freeze for at minimum 2 hours or overnight. I've added a banana to this, and it adds more flavor. Yum -- that's all I have to say.
4. Easy Poached Egg in Avocado
Ingredients:
1 avocado slice
2 eggs
salt and pepper, to taste
Directions:
Bring 2-3 inches of water to a simmer in a saucepan. Crack eggs in a small bowl, then pour eggs into a sieve, and get rid of the excess egg whites. Return eggs back to the original bowl. Gently slip the egg into the simmering water. Cook for 2-3 minutes. While the eggs are poaching, slice an avocado in half and remove the pit. Then, scoop out a shallow hole in each half. Remove the egg from water and place in the avocado, sprinkle with salt and pepper to taste. I like this super easy breakfast with a little salsa.
5. Easy Guacamole
Ingredients:
1 ripe avocado, pitted, peeled and sliced
1 1/2 tablespoons coarsely chopped red onion
1 tablespoon fresh lime juice
1/8 teaspoon salt
1 garlic clove
1/2 small jalapeño pepper (or red bell pepper for less spice)
1 tablespoon cilantro leaves
Directions:
Place red onion, lime juice, salt, garlic clove, and pepper in a food processor; pulse until finely chopped. Add avocado; process until smooth. Sprinkle with cilantro. Eat on toast, chips or with other foods. You can even use the avocado shell as a bowl! This recipe is pretty basic, but sometimes basic can be the best.