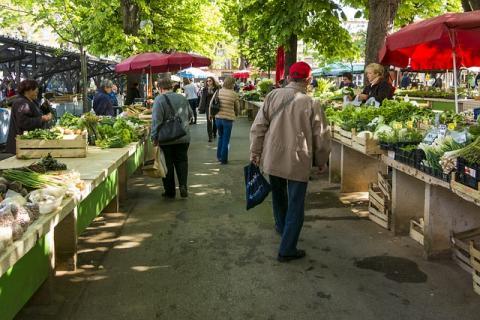 Often times the farmers' market offers a much greater diversity of fruits and vegetables than grocery stores do. Eating a diverse, plant-based diet is a key component to optimal health and nutrition.
By supporting farmers' markets you are supporting local growers and the local food economy, which helps to reduce our carbon footprint. Being able to source where your food comes from and having a relationship with the people who grow the food is very rewarding.  Farmers' markets have more to offer than just great fresh, local food. In addition to high quality produce the markets usually have live musicians providing entertainment and some markets even have special activities for children. If you have not supported your local farmer's market yet this summer go now!
Store bought tomatoes grown conventionally and eaten out of season just do not compare to the flavor, texture and character of an in season market fresh tomato.
Many people consider summer their favorite season because school is out, the weather is warm, and it's the perfect time to take vacations for most working people. I, too, love summer for all of those reasons, but I really love this season because of the vegetables and fruits that are in season at the farmer's market. 
Here in California, we are lucky to have farmers' markets year round, and due to the regional conditions here, many vegetables like salad greens, and heartier greens such as kale, spinach and collards, are always in season. Vegetables such as broccoli and cauliflower, as well as many root vegetables like radishes, leeks, beets and carrots, can be grown year round in California and are readily available at the farmers' market at any time.
Not that I take those year round vegetables for granted, but when bell peppers, padrone peppers and sweet peppers start showing their beautiful waxy selves at the market, I get super excited. Usually, I like to roast the larger peppers with garlic, sea salt and a little olive oil. With the more petite padrone peppers, I'll pan fry them with a little olive oil and add sea salt after they have developed a little char on them.
Summer squash is a true delight to see at the market as well. Zucchini of all kinds, pattypan and yellow squash are fun to look at and delicious to eat.  Roasted squash with herbs, pasta and olive oil is a light, low-prep meal to prepare on a warm summer's day. However, my all-time favorite summer vegetable is the tomato!
If you have not visited a farmers' market yet this summer, go now! Some of my favorite fruits are only in season for two, maybe three, months out of the whole year. I'm talking about stone fruit: cherries, plums, peaches, nectarines and apricots! I enjoy consuming the fruits as they are, adding them to smoothies and adding them to baked recipes.  Canned, frozen and out-of-season fruit just doesn't compare to seasonal market fresh fruit. Many different varieties of melons become available during this time as well.
Whatever your favorite vegetable, it's most likely featured at the farmer's market this summer. Going to the farmer's market can be a great chance to connect with other like-minded people, as well as connect with your food. Supporting local farmers and producers in your area helps your local economy and promotes local business!