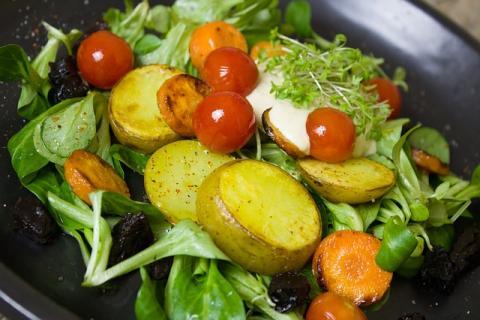 As winter approaches, healthy, whole-food-based eating seems to go on hiatus during the festivities. Fruits and vegetables often take a backseat, but they can be just as hearty and comforting. These produce staples will keep you grounded.
Full of nutrient-rich, minimally processed produce, dairy, nuts and seeds, these salads make for a hearty and wholesome meal. Fall favorites like sweet potato aren't just seasonal; they're also high in fiber and vitamin A, and cooking them helps boost nutrient absorption into the body. Plus, who doesn't love sweet potato?
Fortunately, great salads are an art, and it's hard to go wrong with these ingredients. Tailor the ratios to your liking. If you're not a dairy eater, it's easy to substitute to get a protein boost; consider adding dried fava beans, dried edamame or dried chickpeas.
Kale and Butternut Squash Salad
3 cups kale, destemmed and chopped into 2-inch pieces
1 tbs balsamic vinegar
1 c butternut squash, cooked and cubed (unseasoned) – must be peeled
1 oz goat cheese (optional)
1 tbs pumpkin seeds (raw or roasted)
1 tbs dried goji berries
Pecan and Sweet Potato Salad
2 tbs pecans, raw or lightly roasted with palm sugar and coconut oil
3 cups baby lettuce mix
¼ c feta cheese, crumbled (optional)
1 c sweet potato, cooked and cubed (unseasoned)
(Dressing of choice, if desired)
In the mood for something fresh and sweet?  Try combining a few of these fruits below for a winter fruit salad, or throw one of these fruits into any salad you're eating for a punch of healthy, sweet flavor.
Kiwi
Tangerine
Apple
Pear
Pomegranate