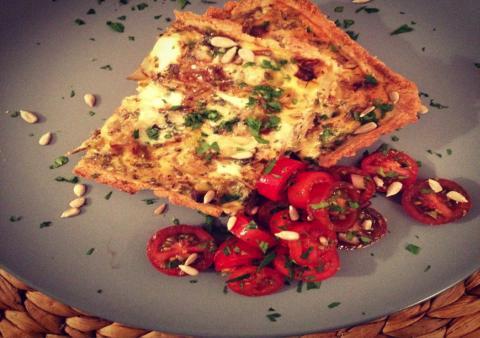 Looking for a gluten-free quiche crust recipe? Search no further and file this gem away for safe keeping, but don't forget to share it with your friends first. No matter what the filling, this flavorful crust will be a welcome complement to any savory egg custard you can imagine. Using what is on hand this winter season, I wanted to combine the sweet taste of sautéed leeks and shallots with the more robust flavor of Roquefort bleu cheese. It is a match made in heaven.  This hearty vegetarian quiche will be the hit at your next brunch!
Dough
½ cup Oat Flour
½ cup Quinoa Flour
¼ cup Butter, Room Temperature
1 Egg Yolk
¼ cup Water
Pinch Sea Salt
DIRECTIONS
Preheat oven to 200⁰C or 390⁰F. Set aside a 9-inch spring form pan.
In a medium mixing bowl combine the oat flour and quinoa flour. Add the butter: using a fork or pastry cutter, combine it with the flour, creating small pea-size balls. Add the egg yolk and continue to cut it into the dough. Season with salt while adding the water to combine, shaping the mixture into a ball. The dough will be firm, and using your hands is recommended.
Filling
1 Tbsp Olive Oil
2 Garlic Cloves, minced
2 Shallots, sliced
2 Celery Sticks, chopped
3 Leeks, sliced
1/2 tsp Dried Marjoram
¼ tsp Dried Ground Laurel Leaves
1 tsp Dried Sage
1/2 tsp Dried Rosemary
½ tsp Dried Oregano
¼ tsp Sea Salt
¼ tsp White Pepper
DIRECTIONS
In a large skillet over medium high heat, heat the olive oil. Add the garlic, shallots, celery, and leeks. Sauté until tender and lightly browned. Add the seasoning and combine evenly. Remove from heat.
Egg Mixture
4 Whole Eggs + 1 Remaining Egg White
3 Tbsp Almond Milk or Whole Milk
1/2 tsp Dried Marjoram
1/2 tsp Dried Sage
1/2 tsp Dried Oregano
½ tsp Sea Salt
1/4 tsp White Pepper
¼ cup Roquefort, crumbled
DIRECTIONS
In a small mixing bowl, crack the eggs. Add your preferred milk and seasoning, and beat with a fork until thoroughly combined.
Roll the dough out in a circle on a piece of parchment paper or if you have a long tart pan, roll the dough into a rectangle. Transfer this dough to the spring form pan or long tart dish. The edges are okay if they are rough. Spoon the leek mixture into the crust. Slowly pour egg mixture over the leeks and crumble the Roquefort over top.
Place in the oven to bake for 20-25 minutes until the eggs are set and the quiche is lightly browned.