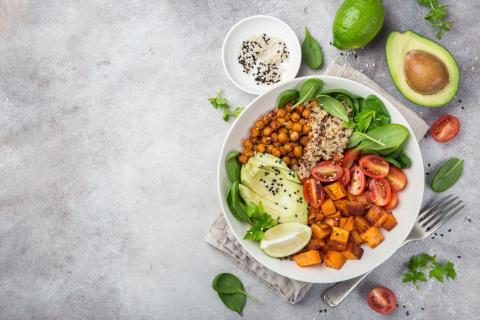 Sweet potatoes have gained a reputation of being healthier for you than white potatoes, and this is 100% true. Although both kinds of potatoes have similar profiles when it comes to carbohydrates and protein, their nutrient profile is very different.
These sweet little spuds are high in vitamin A, vitamin B6, vitamin C, calcium, magnesium and potassium, along with a host of other nutrients that keep you feeling healthy and strong. In addition, sweet potatoes contain less calories and more fiber, especially if you eat the skin, promoting a healthy digestive tract.
Swapping in sweet potatoes for white potatoes is a great way to up your nutrients and add a sweet, robust flavor to your favorite potato dish. Hey, kind of like this sweet potato salad!
It's true what they say, chipotle makes everything better no matter how mundane. Chipotle steamed cabbage, delicious; chipotle scrambled egg whites, mm mm tasty! And when added to sweet potatoes, it makes for a perfectly sweet and smoky combination. The vegan mayo in this salad adds a nice tang, and the coconut bacon provides a satisfying crunch. This is a great dish to bring to a party or to portion out for work/school lunches. *You may add in any of your favorite vegetables such as chopped celery, chopped red pepper or fresh peas.
2 large sweet potatoes, cubed (skin on)
1 carton cherry tomatoes (halved)
1 avocado, cubed
1/4 cup coconut bacon (see below)
1/4 small red onion, sliced thin
1/2 cup vegan mayonnaise (I used grapeseed based)
1 tbsp lime juice
1 tbsp honey
1/2 tsp chipotle powder (or more if desired)
Salt and pepper to taste
Coconut Bacon:
1/4 cup unsweetened coconut chips
1 tbsp tamari 
Few dashes of liquid smoke (optional)
Roast sweet potatoes with coconut oil and salt on a parchment lined baking sheet at 350F for 30 minutes or until tender. Combine soy sauce and liquid smoke, and marinate coconut chips for a few minutes. For last 7 minutes of roasting, add coconut chips to sweet potatoes (it's best to move some potatoes aside and create a space for bacon to cook evenly). Combine vegan mayonnaise, lime juice, chipotle, honey, and salt/pepper together to make a dressing. When sweet potatoes are done, toss in a large bowl with onion, tomatoes, avocado, coconut bacon and dressing. Toss to combine. Makes 4 servings.