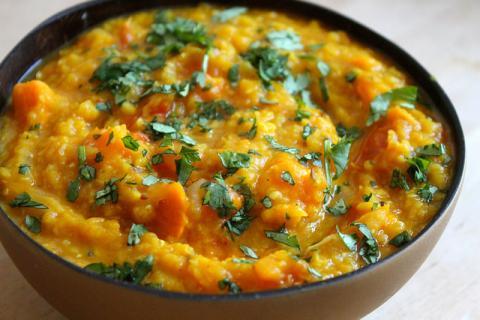 How on earth can lentils taste this good?!
Daal actually means "lentil" but it can also mean a thick lentil stew often prepared in Indian cuisine. The way Daal is prepared makes it seem like a hybrid between a lentil soup and a lentil stew, but stew is definitely the right word.
There are many different kinds of Daal (or lentils), varieties include: red, green, brown and black. I find that red lentils take less time to soak (only 30 minutes) so if you want your Daal sooner than later it's best to choose red lentils over the rest.
Not only is Daal delicious, it also packs a good amount of protein too (red lentils contain 13g of protein per 100g serving). And Daal is especially great for cold fall days when you need something substantial but light.
I think the key to this recipe is to make sure to toast the spices. It releases the aromatic oil of the seeds and enhances the spice's flavor. If you skip this step, it could end up tasting more along the lines of cardboard than a Bombay dream.
Most Daal recipes call for butter, but I decided to substitute it out for coconut oil, which gave it a wonderful coconut flavor. I also added sweet potatoes, which provided a sweetness that went quite well with the blend of spices.®
With the right balance of spices, a hint of coconut oil and a low and slow cooking method, you can be on your way to eating creamy lentils in no time!
Sweet Potato Daal
Makes 4 main dishes
Ingredients:
1 cup red lentils
2 cups water
1 white onion, diced
4 cloves garlic, sliced
1 1/2 inch piece of ginger, peeled and finely minced
4 vine tomatoes (or 2 medium tomatoes), chopped
1 medium sweet potato, peeled and cubed
1 tbsp. coconut oil
1/2 tsp. mustard seeds
1/2 tsp. cumin seeds
1/2 tsp. turmeric powder
1/2 tsp. chili powder
1/4 tsp. chili flakes (optional)
Salt and pepper to season
Directions:
Soak lentils in water for 30 minutes, then rinse and drain. In a medium saucepan, bring water, lentils, onion, garlic, ginger and tomatoes to a boil, then cover and reduce to low, cooking for 30-40 minutes. Refrain from adding salt at this stage because it will prevent lentils from getting tender and soft.
Halfway through cooking, add sweet potatoes.
Heat a non-stick skillet to med-low and add in 1 tbsp. of coconut oil.
Once oil is well heated, add in mustard seeds and cumin seeds, cover skillet with lid and let them splutter for 30 seconds. Shake skillet to prevent burning. Remove from heat immediately.
Once lentil/tomato mixture is cooked, whisk mixture vigorously to release starch, add in mustard/cumin oil, seeds and all. Add in turmeric powder, chili powder and chili flakes.
Add in an additional teaspoon of coconut oil if desired (for extra creaminess!). Salt and pepper to season.
Chop up cilantro and garnish.
Serve with rice or naan as a main dish or serve as a side dish.
Photo Credit: "Sweet Potato Daal" by Jaclyn Enchin is licensed under CC BY 2.0.
Info Source: http://www.livestrong.com/article/541890-red-vs-french-lentils-nutrition/